By Melonie Magruder
Lookout Staff
April 5, 2011 -- The new exhibit "Considering Eden" at the Annenberg Community Beach House is an example of the city's goal to offer Santa Monica residents contemporary art that's easy to embrace.
Ranchhouse by Katherine Huffaker Jones.
Photos courtesy of the curator, Considering Eden
"It's part of our creative capital to be able to infuse art into the daily lives of our residents," said Malina Moore, the city's Public Art Coordinator. "In showcasing this at the Annenberg Beach House, people who might not otherwise go to a museum can just walk in off the beach and see some great contemporary art."
It's part of Santa Monica's Beach=Culture program that utilizes the old Marion Davies beach house – built by the screen star's newspaper mogul paramour William Randolph Hearst – as a venue to present local artists, offer play readings and stage musical performances in a casual setting with a winning seaside view.
Exhibits are designed to be relevant to Southern California culture, thematically accessible and give area artists an opportunity to show their best stuff.
What makes the Beach=Culture art program unique is that the city doesn't set curatorial parameters for the four annual shows. They ask for exhibit submissions based on themes conceived by the artists themselves.
Lisa Bloomfield, who proposed and curated "Considering Eden," is a photographic artist who wanted to address the idealization of Southern California lifestyle and the loss of innocence.
"When you say 'Garden of Eden,' you think about paradise and a fall from grace," Bloomfield said of the exhibit. "This isn't a religiously-themed show, but more about the fallout of loss, memory and perfect expectations that come from our sunny culture and our celebration of simpler times."
Accordingly, there's a slight unease inherent in the works presented by these five mid-career artists, whose work uses photography, oil on panels, digital photography and even repurposed vintage greeting cards.
As French writer Marcel Proust said, "The only true Paradise is always the Paradise we have lost." John Milton aside, these artists' works subtly play such a dissonant chord with their visual representations that all are a commentary on loss of some kind.
Paula Goldman's archival inkjet and pigment prints capture hyper close-up images of nature involving insects, fruits and vegetation in various stages of decay, as though cataloguing the earth's seasonal cycle of birth and death. Indeed, in an image from her "Nature" series, bits of fallen cottonwood fluff seem to veil part of a jawbone.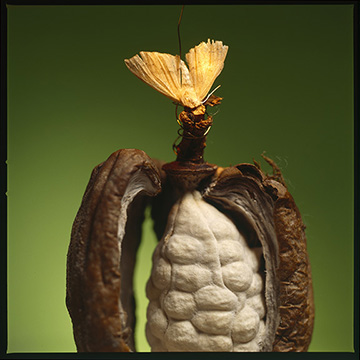 Mothpod by Paula Goldman
Bob Jones employs vintage pastoral greeting cards with cheesy expressions of sympathy in flowing collage landscapes that underscore the truth of their pretty vistas: life is impermanent at best.
Katherine Huffaker Jones paints tableaux juxtaposing barbed wire and delicate flowering vines, wilting flowers and funereal, bedraggled ribbons to comment on the loss of faith or nature inherent in our passage through life.
Jane Brucker's "Lost: Cast Metal Objects" is a remarkable catalogue of the past: everyday objects that have been cast in bronze or brass, whose very preservation in immutable metal accentuates the fragility of life. Tiny sunglasses, a vintage pot of rouge, puzzle pieces, a savings account passbook, long blown-out birthday candles - all speak to a past life that is as dead as those bronzed baby shoes from a generation past.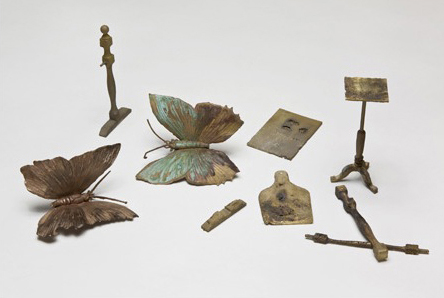 Lost - Cast Metal Objects by Jane Brucker
Bloomfield herself mixes digital photography with written text to highlight the sinister underside to much of what we in Los Angeles take for granted – the ordinary house next door, the wildfire that eventually comes to our own rooftops. Her night photos of albino alligators and black rabbits with spectrally glowing eyes unnerve you.
As Bloomfield said, "There's irony and humor and disappointment and pleasure in these themes. Just like life."
"Considering Eden" runs at the Annenberg Community Beach House March 31-June 9, with a spoken word addendum to the exhibit on May 2. For more information, visit the website www.annenbergbeachhouse.com or call (310) 458-8350.