By Michael Aushenker
For The Lookout News
November 30, 2010--Shows closing on Broadway are old hat, but in Santa Monica last night, it was Broadway that closed, too early, according to regulars and staff members at the cherished area deli. The shutdown of Broadway Deli-- arrived quickly and with little fanfare. Many regulars last night were unaware that their cherished deli was enjoying its final hours. The shutdown will displace 65 employees, some of whom have worked at the restaurant for ten to 20 years, since it opened in 1990.
Last night, amid large signs in Broadway's windows that read "Goodbye, Santa Monica! Thank you for 20 years! Lost our Lease! Broadway Deli," a smattering of customers entered the establishment, at Third Street Promenade's southeast tip, to pay the restaurant a bittersweet goodbye.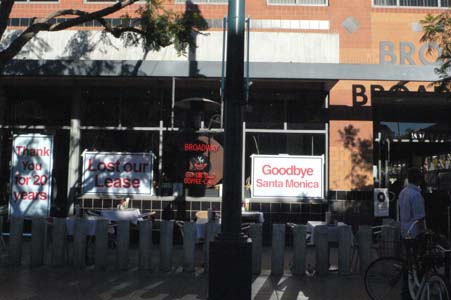 Santa Monica Broadway Deli (Photos by Frank Gruber for The Lookout News)
Staffers have been aware the delicatessen was on the chopping block. In April, building owner Promenade Gateway LLP notified them that the restaurant would have about four to nine months left.
What the staff did not anticipate was the short notice that befell the favorite local hangout, with the deli never living to see Chanukah, let alone Christmas.
Despite the Nov. 1 notice, "We assumed he would wait until he found a tenant, especially with the holidays coming up," said general manager Marc Zeidler. "We asked for an extension, for our employees," many of whom have families to support.
A week ago, Zeidler, son of Broadway owner Marvin Zeidler, started to hear from the building's attorneys, who he said had threatened Broadway with a lawsuit if they would not vacate. "They said they would incur major penalties if we were not out. I'll be interested to see what they do with the space," Zeidler said.
Marc Ziedler
Last spring, Promenade Gateway presented a plan to create a 6,000-square-foot retail space with a small eatery bordering Broadway. When the permit was approved by a Planning Commission vote of 5-1 for Promenade Gateway to go forth with its space conversion.
The dissenting vote, Commissioner Jay Johnson, said that the Broadway "was a real asset to our community, and I'm disturbed that it's leaving simply as a function of having monumental rent increases." He stated that, by driving out Broadway Deli, "I think we're hurting ourselves as a city, as a community."
Zeidler said in April that Promenade Gateway wanted to triple the rent to about $150,000. Promenade's asset manager Scott Blake countered Zeidler's claim. He said that an appraisal was done of the property with results presented to the Broadway Deli management. "The fact is they don't make money at their current rent," Blake said at the time.
"When our 10-year lease expired, their appraisal was three times our price. So there were no more negotiations," Zeidler explained last night. The deli managed to stave its May closure and survive another five months on a month-to-month lease, accompanied by rumors of its eminent end.
"A lot of customers have come in today just to say good-bye," head manager Alex Reyes told The Lookout last night.
Frequent customer Doug Morris, who lives walking-distance from the restaurant, was unaware his favorite deli was open for one final performance. He and wife Diane had walked around looking for a dinner spot when the window signs gave the couple pause, then purpose. They slid into one of the Broadway's window booths, overlooking the hustle and bustle of the Promenade.
"I walk by here every day," said Carol Purcell, who stopped by to bid the Broadway staff farewell. "This place has such great ambiance," Linda Elliott said. Both ladies were saddened by the lack of customers on this final night.
Zeidler believes the short-order eviction was strategic: "I think they made it ambiguous so that we couldn't gather community support to remain open." Various staffers said the building manager even deployed an employee to tell Broadway to take down their final-day signs. "I told her to send me a letter," Zeidler said, smiling.
Zeidler described his father's reaction to the speedy ousting: "He was quite upset. He's the main negotiator with the landlord. He was quite surprised."
While Marvin Zeidler and wife Judy were busy treating friends to one last supper at the venerable delicatessen, computer consultant Jim Goodman, was eager to share his memories of the restaurant, which opened the year Goodman moved to Los Angeles from the East Coast. Goodman said he was going to miss eating "the regular" for breakfast: egg whites, chicken sausage, and "the best damn onion bagel in town."
Zeidler said that his father, a Broadway Deli partner with Bruce Marder, owns several other enterprises, including Capo and Cora's Coffee Shop on Ocean Avenue in Santa Monica, and the Brentwood Restaurant, and the House Café in West Hollywood. They will be able to relocate a few of Broadway's staff to other venues they own, which next month will include a new wholesale bakery that will continue to produce those beloved onion bagels and other baked goods Broadway had offered at the aforementioned eateries and other restaurants.
Goodman considered Broadway the antidote to restaurants that "turn around tables so you can't relax and read the newspaper."
"This is my kitchen," continued Goodman, a regular who ate breakfast, lunch and dinner at Broadway on a regular basis. "You get anything you want at any time. If it was wrong or overcooked, they'd correct it in a heartbeat.'
Despite such rival delis as Froman's, Izzy's, and Bagel Nosh sporting Santa Monica addresses, Goodman enjoyed Broadway being "centrally located. You can run errands. With this being gone, now I have to drive."
Ultimately, Goodman will not only miss the turkey bacon on toasted pumpernickel and the duck enchiladas in mole, but the sense of community and camaraderie. "This was a big employer here in town," he said.
"I remember Alex when he was just the bus boy," customer Greg Cornejo teased Reyes.
Looking fit and dressed appropriately in black, Reyes reflected on his 20-year rise from bus boy to head manager. His eyes welled up as he explained how he has been with Broadway long enough "to open and close the restaurant…and then, one day, everything is gone. It's been a tough week."
Manager Ricardo Cruz said he felt "sad because we're closing the place, and concerned about finding another job." Cruz deemed the landlord's hasty eviction of Broadway Deli "cold' and "insensitive."
"It's always been a rumor that we were closing but we thought it would stay open till Feb., at least after the holidays."
"I already miss this place," Reyes said. "I will miss all the people we've been working with for many years…the customers."
Cornejo, a regular customer who works at nearby Saints Studio, brought son Preston in for one last supper at Broadway. They ate baby-back ribs at the counter, where Cornejo occupied his usual stool one last time. "I usually have the Monday night ribs,' he said.
Cornejo will miss the bialies, the smoked fish, and the cheese plates. Most of all, he'll miss his go-to neighborhood place. "I work on Broadway and I live on 4th, so I love the fact that I can just walk in here and have great food."
"I'm going to miss the fantastic raviolis and the chicken pot pie," said a British businessman who walked in, shocked to learn of Broadway's closure. "I've got some friends from Europe who are going to be very disappointed."
About an hour and a half before Zeidler would close Broadway Deli for the last time and share a farewell party with his shell-shocked staff, Morris mulled over which of his favorites to order––the BLT, the meatloaf, or the chicken pot pie--. He finally went with the Shepherds Pie (lamb, vegetables and mashed potatoes) while Diane Morris, a newbie, ordered the rotisserie chicken salad as her first and last meal there.
While they studied their menu, others asked if they could keep theirs as mementos of a place that will no longer exist except in the collective memory of those lucky enough to have traveled through Broadway Deli's doors.