By Jorge Casuso
July 15, 2009 – When a downpour hits Santa Monica, at least one street will quickly dry up and stop the water from polluting the bay.
The 100 block of Bicknell Avenue drew dozens of onlookers Tuesday morning to witness how the city's first "green" street can harvest stormwater runoff and its pollution and infiltrate it into the ground instead of the ocean just a stretch of sand away.
"We hope that this will serve as an example," said Mayor Ken Genser. "We can mitigate many of the effects of pavement in our city so that we can capture water and let it percolate into the ground so nature can recycle it."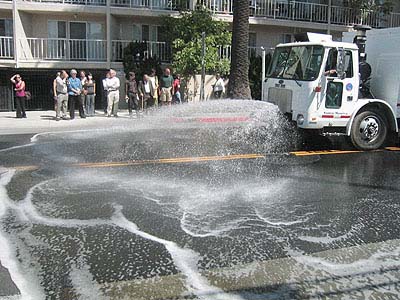 Truck sprays water during demonstration. (Photos by Lookout Staff)
City officials and nearby residents watched as a truck splashed water on the newly paved street, which is sloped to allow water to drain towards the curbs.
Before the water can reach the curb, much of it percolates into the ground through a permeable concrete layer six inches deep that allows the water to infiltrate into the soil below.
Infiltration basins under the parking lanes store the water during a storm or in the event there is dry weather runoff. The runoff is collected by the basins with filters in the gutters.
The water is stored until it percolates into the surrounding soil, helping to replenish groundwater supplies.
Depressed bioswales serve as parkways
The runoff that does not enter the basins flows into depressed bioswales that serve as parkways flanking the street. They feature native plants that are supported by drip irrigation under a layer of mulch. The plants require little water and maintenance.
Urban runoff flowing through storm darins is the single greatest source of water pollution to the beaches and near the shore of Santa Monica Bay.
"This is really the model for the future on how we have to manage stormwater," said Council member Richard Bloom.