Commission to Council: Delay Tree Removal Downtown
By Jorge Casuso
October 4 -- Lacking the power to stop the axes before they start felling Downtown trees Monday morning, the Planning Commission Wednesday night voted to recommend that the City Council delay an $8.2 million streetscape project.
The vote capped emotional testimony from some three dozen residents who flocked to the council chambers to protest the City's plans to compost or relocate 75 mature ficus and palm trees they say help fight noise and pollution and make strolling down shady 2nd and 4th streets a pleasure.
The liberal city that prides itself on being a leader in sustainability would tarnish its reputation if it moves ahead with a plan opponents have vowed to fight in the media spotlight, some who testified warned.
"People aren't just going to lay over and let this happen," said John Quigley, an environmental activist. "This could be a major misstep and embarrassment for Santa Monica."
The City seems to be bracing for demonstrators on Columbus Day next Monday, when contractors are set to begin removing trees.
"While we respect their right to express their First Amendment views and to demonstrate, we are hopeful that those rights will be expressed civilly and peacefully," City manager Lamont Ewell wrote in an editorial.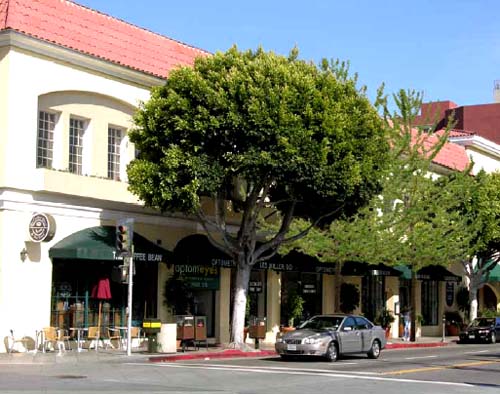 Recreated image of ficus trees along 2nd Street with gingkos added. (Photos courtesy of the City of Santa Monica)
Council member Kevin McKeown, the council's liaison to the commission, warned that it was unlikely his colleagues would act to delay the plan, which calls for composting 23 mature ficus trees and planting 139 new gingko trees, adding a total of 64 new trees.
"There is no City Council meeting between now and Monday," said McKeown, who cast the lone dissenting council vote. "I think it's very unlikely an emergency meeting will be held" before Tuesday's scheduled council meeting.
To revisit the plan -- which has been in the works for a decade -- a council member on the prevailing side would need to place the item on the agenda, an unlikely scenario, since City staff has warned that changing the project could jeopardize the earmarked State and Federal Transportation funds, McKeown said.
"I don't know, since the contract (with the contractor hired by the City) has been signed, that we can postpone the work," McKeown said. "Whatever you do, you will have to act quickly."

"The sense of urgency is very strong," McKeown said. "There's less than 100 hours before the trees start to be removed."
Residents from across the City, many of them members of the newly-formed
Treesavers organization, used logic, emotion and guilt to urge the commission to take whatever action it could.
"We need to go the extra mile for the trees and a Santa Monica win-win solution," said Jerry Rubin, the head of Alliance for Survival, who organized the Treesavers' effort. "It's not good for the city. It's not good for our future tree policy."
Several of the speakers opposed the plan on aesthetic and environmental grounds, noting that the mature ficus trees, which they contend still have more half their life span left, will be replaced with much smaller ginko trees that take long to grow and lose their leaves in the winter.
"We're a sustainable city," said Susan McCory. "We're going to take these beautiful trees down, and we're going to have these dinky trees and a bunch of concrete. . . I think we have to rethink his."
Others made emotional pleas.
"I'm really heartsick," said Sally Silverstein, who has lived in Santa Monica for 40 years. "We should have our ficus trees as a landmark. We have the Santa Monica pier, we have the ocean and we have the ficus trees.
"We need them," she said. "I hope you can save them."
"A large number of Santa Monicans are against this action," another speaker said. "This is another step in Bayside's vision of Santa Monica as an extension of the Third Street Promenade. The profits loom large, but what happens when Downtown Santa Monica is just a clone of everywhere?"
Still others questioned the process that led to the final plan.
"Give the people more time," Quigly said. "There hasn't been enough public input. This is what democracy is for."
In an editorial to the local press, City Manager Lamont Ewell countered "the tremendous amount of misleading information about the project," including claims that public input was limited and that the trees pose no danger.
"Although the project design has been thoroughly reviewed and discussed in public forums before Council, the Architectural Review Board and Landmarks Commission over the past two years, misinformation continues to abound about the removal of 23 ficus trees," Ewell wrote.
"And while no one likes removing trees, it makes sense to do so when they have been identified as structurally unsound or irreparably damaged," the City Manager wrote. "There is no 'cure' for internal decay and no corrective pruning treatment for trees with damaged trunks or that are off-balance and present a risk to the public."