By Jorge Casuso
June 25 -- It should be smooth sailing now for the proposed redevelopment of two aging motels on Ocean Avenue after their owner and the Macerich company, which is redeveloping the adjacent Santa Monica Place mall, agreed last week to support each other's projects.
The agreement paves the way for the proposed redevelopment of the half-century-old Travelodge and Sands motels, which total 87 rooms, into a new 164-room hotel comprised of two buildings that City officials say will add much-needed affordable lodgings to Santa Monica's increasingly pricey coastal zone.
Proposed Travelodge facing Ocean Avenue. (Renderings courtesy of Gensler)
"We're both in a position now where we totally have accepted their project as is, and they've accepted our project as is," Robert Aptaker, Macerich's vice president of development, told the Planning Commission last week.
Dr. Michael Farzam, whose family owns the Travelodge, said he and his family will "work with Macerich in good faith as neighbors.
"It represents a strength and not a weakness to be willing to compromise certain viewpoints that one values, and I believe this supportive agreement sets a good example of what positive things can be accomplished," Farzam said.
Macerich officials had opposed the 45-foot-tall development, because it would block the ocean views from the open-air third level food court featured in the company's plans to remodel the struggling indoor mall. (see story)
"We're going to work together in good faith to look for ways that will be mutually beneficial to both of us, to improve our view some, which is in our best interest," Aptaker said.
"And we recognize that it is in everyone's best interest. . . to have affordable lodgings in Downtown Santa Monica," Aptaker said.
Farzam said his family also will try to accommodate Macerich's best interests.
"We'll work with them in good faith to move anything that could block their view," Farzam told The Lookout.
Farzam said the agreement allows the project to move ahead with the release of a draft Environmental Impact Report in the next month and a hearing before the Planning Commission by late fall.
"Affordable lodging in the coastal zone is a big issue, because it's been significantly lost," Farzam said. "We think it's a very nice project for the city and the community. We hope it will go smoothly."
The proposed project -- which is the first affordable hotel since the Farzam family built the Best Western on Ocean Avenue in 1992 -- will forego many of the amenities typical of luxury hotels, farzam said.
The new Travelodge, with rooms in the $150-a-night range, will have limited amenities. There will be "no multiple room suites, a restaurant, a bar, conferencing facilities, a gym, a spa or similar amenities typically found in more upscale or luxury hotels," Farzam said.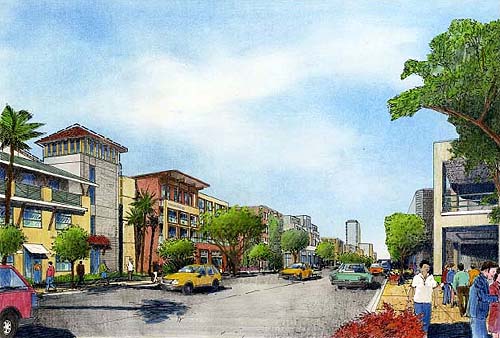 Proposed development facing 2nd Street.

The proposed project will feature approximately 296 parking spaces in a four-level underground parking garage, or some 100 parking spaces more than required by the City and Coastal Commission. The parking will be leased to neighboring businesses, including restaurants facing a parking crunch.

The project also includes some 3,200 square feet of retail space facing Second Street,

Although the 45-foot-tall structure abides by existing zoning codes, the project will require a variance for a pedestrian bridge that will allow guests to move between the two proposed structures above the alley.

After the scheduled Planning Commission hearing, the project will go before the Architectural Review Board, the City Council and the California Coastal Commission.