By Jorge Casuso
June 22 -- The Planning Commission Wednesday night enthusiastically embraced the proposed remodel of Santa Monica Place, giving the design that tears the roof and doors off the indoor mall and connects it to the Third Street Promenade unusually exuberant praise.
The commission will not officially weigh in on the project, which only requires administrative approval, but Macerich Company officials chose to seek input on their modest remodel, which features an open-air center court and a third-floor food court overlooking the Pacific. (staff report)
Third Street Entrance (Images courtesy of The Jerde Partnership)
"I like the overall configuration," said Planning Commissioner Darrell Clarke. "I like how it opens up. I like the curves. I think it's gorgeous.
"I look forward to seeing it there," he added. "I think you've done something special."
Commissioner Hank Koning, an architect, echoed Clarke's enthusiasm. "I think it's quite fabulous, actually," he said.
Commissioner Jay Johnson called it "a world-class project.
"I applaud the design," Johnson said. "I think it's very exciting. It's a great enhancement."
Fourth Street
The remodel comes two-and-a-half years after the City Council rejected plans for a major redevelopment of the 27-year-old-mall designed by world-renowned Santa Monica architect Frank Gehry that included three 21-story condo towers.
"It's really important that we have a project the community is embracing," said Robyn Young, senior manager of development relations for Macerich, noting the company has been in Santa Monica for 29 years.
"This is really a unique design, and it's created just for Santa Monica," Young said. "We met with 14 different community groups, and in almost all of these meetings, we received universally positive feedback."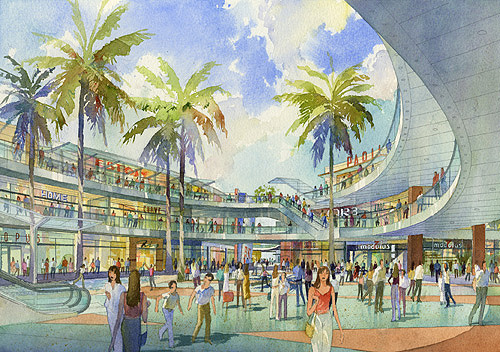 Palm Plaza
The proposed remodel will address what's wrong with the struggling indoor mall, Macerich officials said.
"It's a suburban type shopping center in an urban environment," said Robert Aptaker, Macerich's vice president of development. "It's inward-facing and it's not pedestrian friendly. . . We want to get away from the feel of a shopping mall."
While the overall design won strong support Wednesday night, two commissioners were concerned that an open-air food court on the third-floor could drive away customers seeking shelter from the often chilly ocean breezes.
"I continue to have concerns about where the food facilities will be," said Commissioner Julie Lopez Dad. "I'm concerned about the wind, the breezes up there."
"Taking off the roof could be a disincentive," Johnson said. "The Whittier Center was closed, they opened it, business went way down. They closed it, and it went back up."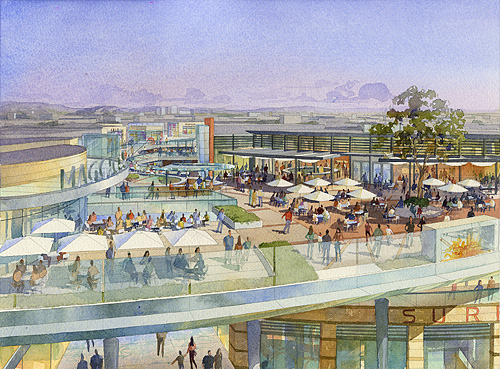 Dining Deck
Macerich officials -- who said they have hired a "wind consultant" and plan to put up 6-foot screens -- said the community had overwhelmingly supported tearing off the roof.
"The feedback we've been getting has been overwhelming about creating an open-air environment," said Aptaker. "The time is right to open up this Downtown property."