No Butts About It: City Launches Campaign to Curb Smoking on the Beach
By Ann K. Williams
Staff Writer
August 10 -- There's a new face on Santa Monica's world famous beaches, and he'll be hard to miss.
Mr. Butts -- not the police chief, but Doonesbury creator Gary Trudeau's brazen apologist for the tobacco industry -- will be hailing beachgoers from 600 trashcans calling attention to the year-old ban on smoking on the beach.
"I'm pleased to dispatch Mr. Butts to the Left Coast to soak up some rays and lend a hand," Trudeau said in a prepared statement.
"The Big Tobacco spokessymbol has been undermining his own best efforts to seduce the the innocent ever since" his fictional creation by Michael J. Doonesbury, Trudeau said. "Butts is such an irrepressibly upbeat advocate of bad choices that it's good to see his stunned visage evoked for a worthy cause.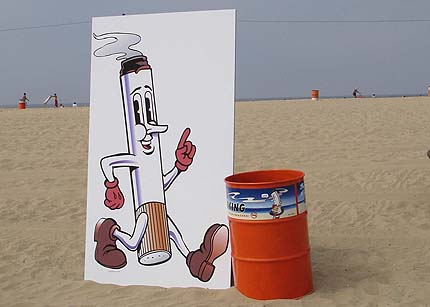 (Photos by Gene Williams)
The City is grateful for the image of the talking cigarette, which Trudeau donated free of charge, said Assistant to the City Manager Judy Rambeau. "It's a creative way to raise people's awareness."
The City's ban on smoking "gives families a safe place and safe air to breathe," said Colleen Callahan of the American Lung Association of Los Angeles County.
Even at the beach, second hand smoke is a real risk for nonsmokers explained Charles Smith, a volunteer for the American Cancer Society. "Second hand smoke hangs in the air at the level where people are standing," he said.
People who've given up smoking won't be tempted when they come to the beach, Smith said, and kids will realize smoking is not a fun thing to do.
And at the same time the air is cleaned, so is the beach itself.
"Smokers come out on the beach and see a big ashtray," said Robert Berger, whose organization Healthier Solutions pushed for the ordinance the City Council passed in April 2004.
Cigarette butts represent by far the largest source of litter at the beach, are slow to degrade and poison birds and sea animals who eat them, Berger said.
Though not the first smoke free beach in California, Santa Monica was a leader in a movement that's resulted in a continuous strip of smoke free beaches from Malibu to Manhattan Beach, Berger said. All told, about a quarter of the coast is smoke free.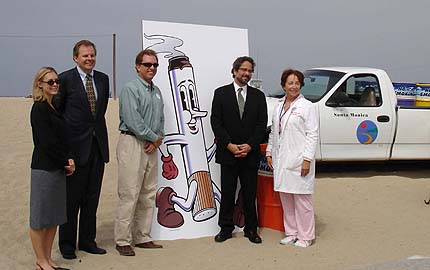 Council member Richard Bloom (fourth from left) and health officials pose with Mr. Butts.
Council Member Richard Bloom called the ban the "linchpin for other communities in California getting on board."
And the movement has become international. Australia has eight smoke free beaches, and New Zealand and Ireland have followed suit.
"Every time we move forward, it helps other people move forward," Bloom said. "The more people understand, the more governments will act."