Race Fights Break Out at Samohi
By Olin Ericksen and Jorge Casuso
Staff Writers
April 15 -- Racial tensions at Samohi erupted in a series of fights Friday, leading to a lockdown of the city's largest school and prompting police to call in reinforcements.
The fire alarms sounded as administrators and police rushed in to quell the violence, which was the result of racial tensions that have been brewing between Latinos and blacks, the school's two largest minority groups, witnesses said.
Witnesses described a frantic scene as an argument between several students flared into a fight, then spread into several other fights as a mob of some 200 students rushed across the campus shortly after the 12:35 p.m. lunch break.
School officials locked the school gates, as Santa Monica police, joined by officers from two neighboring cities, circled the campus to insure there would be no further violence when school let out.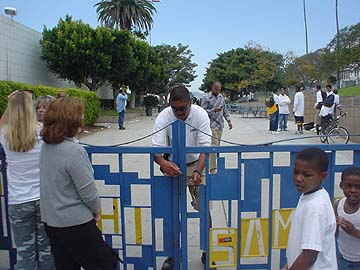 School officials lock campus gates. (Photo by Olin Ericksen)
"It was a riot going on here," said a 16-year-old black student, who estimated the fights lasted more than half an hour.
"I could see two large fights, but there may have been more," said a 15-year-old freshman, who is white.
School Superintendent Dr. John Deasy, who was briefed throughout the day while in San Diego, said there were "three or four fights" involving a "small number of students."
Some 30 to 40 students were watching the fights and refused to return to class, Deasy said. School officials called police "out of an abundance of caution.
"We didn't know if these groups would continue with tensions after class," Deasy said. "There was no weapon involved."
Helicopters hovered above the campus at 601 Pico Boulevard, as 26 Santa Monica police officers circled the campus after order was restored at around 1 p.m., said Lt. Frank Fabrega, the Police Department spokesman.
By 2 p.m., reinforcements from the Culver City and Beverly Hills police departments, as well as Santa Monica's night watch shift, were stationed around the campus to avoid further fights from breaking out.
No arrests were made in connection with the fights, Fabrega said.
"When officers got here, several fights were going on," Fabrega said. "There were three or four fights.
"The school is back in session," Fabrega said at around 1:30 p.m. "We'll have maximum deployment around the school so we have high visibility. . . to make sure there are no more fights."
By 3 p.m., the scene around the school was chaotic. Traffic was snarled, as hundreds of parents converged on the campus to pick up their kids. Many parked illegally in alleys and streets and got out of their cars.
Hundreds of parents and students walked along the sidewalks and streets around the campus, cell phones in hand, trying to find each other.
Some parents were confused by the scene, unaware of what had happened.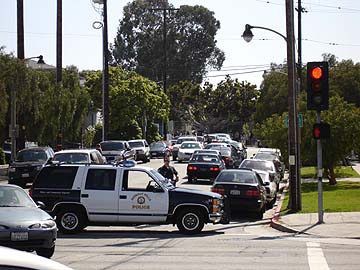 Squad cars block street as parents double park to search for their children. (Photo by Gene Williams)
Superintendent Deasy said the tensions began prior to lunch with "a couple of arguments between the kids."
One student said tensions had been building throughout the morning.
"There were a bunch of little ones (fights) throughout the day leading up to the big one at lunch," he said. "I just saw a wave of people running in the direction towards the fight. Everyone wanted to see it."
"There were groups of five or six people and a crowd watching, obviously," said one student who witnessed the first fight. "A Mexican guy and a black guy started yelling at each other.
"They went at it," said the student, who was on her lunch break from band practice at Barnum Hall. "A girl got in the middle and got hit in the face. She was Mexican."
The black student who was fighting on the ground got up and pushed a security guard who had approached, then started walking away, one witness said.
When the guard pursued him, the student started jogging, said the witness, a 15-year-old freshman.
"That's when the whole crowd started following," the student said. "By that time, there were about fifty people. They came down the stairs toward Barnum Hall."
A new wave of students, most of them black, saw the commotion and began running towards the auditorium, the witness said.
"In the middle of the crowd, people were hitting each other," the student said.
About half a dozen guards, who had shown up on the scene, locked arms to contain the students, the witness said.
"The students fighting broke through the line and the crowd started yelling, 'They broke through, they broke through,' drawing students from other parts of the school," the witness said.
The crowd -- which now numbered about 200 -- ran towards a small staff parking lot, where they were greeted by guards and police, who had arrived on the scene.
"They couldn't stop running," the student said. "They were running fast, and there were a lot of people."
The guards blocked the exit gate and police apprehended about a dozen students. "They took them down to the squad cars and handcuffed them," the student said.
"Most of them were resisting, thrashing and kicking," the witness said. "I saw a few people in the back seat of the (squad) cars."
The fights broke out at the same time that Samohi was hosting a music festival that draws students from neighboring districts to Barnum Hall, the newly restored historic auditorium.
The Samohi orchestra had just finished rehearsing the fourth movement of Brahms' First Symphony and Elgar's "Enigma Variations" numbers 9 and 14 when the fights broke out on the campus.
"Someone came up and said there was a huge riot during lunch," one of the musicians said. "We didn't hear anything."
"We just kept eating our lunch," said one student, who was a member of the stage crew. "Small fights happen all the time. We didn't know it was big."
Tensions between black and Latino students had already erupted into lunch-hour fights before Friday, students said.
"Some of my friends who are seniors have been going at it since eighth grade," one student said. "The biggest (fight) was about a month ago."
Deasy said tensions were apparent before the Spring break, prompting a series of meetings with parents, students and community leaders.
There are 398 black and 1,053 Latino students on the campus of some 3,500, according to school officials.
Samohi Principal Ilene Straus said there has been an increase in fights among students this year and characterized the incidents as race related.
"There has been more tension between racial groups this year, but these things tend to move in cycles," Straus said earlier this week.
Some students said they don't feel safe on campus.
"I don't really feel safe here," said the 16-year-old black student, who said that though the fights were not gang-related, some "gang-bangers" may have taken part.
Latinos who have graduated from Samohi often get involved, showing up after school and "line up waiting to pick a fight with the black kids," the student said. "They just don't like each other."
Asked what it would take to end tensions, the student said, "It ain't never gonna stop."
But if tensions have been high, students don't recall fights on the scale of the mob scene that swept through the campus Friday.
"During class, you don't normally see it," said one student, who said several events, such as pep rallies, have been cancelled due to the tensions. "There have been minor fights, but not like this."
"I've never seen anything like this when I used to go here," said Tera Kandemir, a black student who graduated in 1999 and whose 14 and 16-year-old brothers attend the school.
Nick, a 15 year-old sophomore who lives in South Central, was also surprised by the violence.
"I've never seen anything as large as this," he said. "I moved to get away from this. It just shows no matter where you go, you still run into this stuff."
Henry Gruber, Clifford Williams and Gene Williams contributed to this report