By Jorge Casuso
April 3, 2020 -- Some 750 meals were distributed to Santa Monica College (SMC) students who are "food insecure" at an inaugural drive-thru pantry on Thursday, school officials said.
Set up in a parking lot near the SMC Student Services Center, the pantry provides an alternative to "on-campus food resources that are currently inaccessible to students due to the Covid-19 crisis," school officials said.
Handed out on the first day were 250 bags of non-perishable food items and groceries from Westside Food Bank and SMC's 10 donor-supported food closets, one of the most extensive in the country.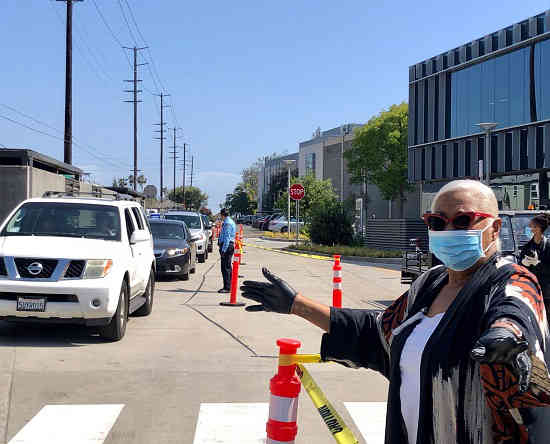 SMC President Dr. Kathryn E. Jeffery helps direct cars at drive-thru pantry (Pictures Courtesy of SMC)
Another 500 meals from social enterprise Everytable were distributed, as well as cupcakes from The Butter End Cakery, officials said. Social distancing and hygiene protocols were enforced.
"This current crisis has created a set of difficult circumstances for many," said SMC Superintendent/President Dr. Kathryn E. Jeffery, who helped distribute the food.
"We fully intend to continue to serve students as best as we can during this public health crisis," said Jeffery. "It is hard for students to focus on classes when they are hungry!"
In addition to the drive-thru pantry, Santa Monica College is providing meals to some 700 students at home through the Meal Project program launched by the SMC Foundation.
The Foundation recently launched a $2 million fundraising campaign for the project, which seeks to "ensure that students identified as being at great risk for hunger and food insecurity" receive food.
Those most at risk include homeless students, veterans, former foster youth and seniors who attend the school's Emeritus College, school officials said.
"We launched this program 10 days ago to find a way to fill the enormous gap that exists between our students and their access to food," said Lizzy Moore, SMC Dean of Institutional Advancement.
"Our goal is to feed 3,000 students each week with seven meals delivered to their homes so they -- and everyone else -- can stay safe!" said Moore, who serves as the foundation's president.
Food delivered to drive-thru pantry
The Meal Project received a $500,000 seed donation from SMC through grant funds, a $200,000 lead gift from angel donor Ann Wang and The Wang Family Trust and $35,000 from the SMC Associated Students, school officials said.
The "healthy, chef-prepared meals" are delivered via a subscription service with Everytable.
Last month, the comppany opened a "revolutionary" food lounge at the school's Center for Media and Design campus ("Pioneering Food Lounge Offers Santa Monica College Students Affordable Meals," February 26, 2020).
The first-ever Everytable SmartFridge Lounge -- which is a partnership with the SMC Foundation -- offers students affordable meals starting at under $5, school officials said Wednesday.
In lieu of paying rent, Everytable donates 300 to 500 meals a week to SMC's new centralized food pantry to provide free meals for "food insecure" students, officials said.
Dr. Susan Fila, SMC's Director of Health & Wellbeing, called the Tuesday's food distribution effort "truly amazing."
Those who helped included college employees, the SMC Police Department, the SMC Foundation, night-shift custodians and others, school officials said.
It was "heartwarming," Fila said, "to see the smiles and sometimes tears on our students' faces when they realized how much food they were putting in their cars."
To find out more about SMC's response to Covid-19, visit smc.edu/coronavirus.
For more information on the college's food security programs (including the pop-up drive-through pantry) visit smc.edu/foodsecurity