By Jorge Casuso
November 25, 2019 -- Police on Friday stopped a man from jumping onto the freeway in what would have been the ninth public suicide in Santa Monica in less than two years and the second in two days.
The suicide attempt -- which was captured on video -- took place at around 2:40 p.m. on the 4th Street bridge above the I-10 Freeway.
"Officers responded and made contact with the subject who was sitting on the bridge above the overpass," said Candice Cobarrubias, the Police Department spokesperson.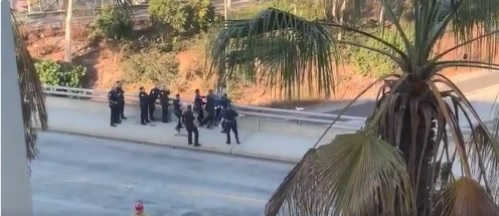 Video capture of police thwarting suicide attempt Friday afternoon (Courtesy SMPD)
SMPD's Crisis Negotiation team started conversations with the subject as between eight and ten officers closed in, police said.
"Once an opportunity presented itself, officers moved in, grabbed the subject and pulled him off the overpass,' Cobarrubias said.
The subject was taken to a local hospital for a mental evaluation.

The incident took place one day after a man committed suicide by hanging himself from the Santa Monica Pier ("Suicide Under Pier Marks Eighth in Less than 2 Years," November 21, 2019).
The victim's identification is pending notification of next of kin, the Los Angeles County Coroner said Monday.
Thursday's suicide marks the eighth public suicide in Santa Monica in less than two years, most of them generating headlines and coverage by local newscasts.
Four of the victims took their lives by leaping from the roofs of public parking structures Downtown, three have killed themselves on the pier and one shot himself in front of John Adams Middle School (JAMS).
The suicides come as Santa Monica boosts it efforts -- and funding -- to improve wellbeing in the beachside city of some 94,000.
On Saturday, some 900 residents attended the city's first Wellbeiing Summit, which cost $242,500 or about $270 per participant ("City's Wellbeing Summit to Cost Nearly $250,000," October 31, 2019).

The summit explored "how we can use our many community strengths to better understand and address the things that challenge all of us," City officials said.
Suicide is on the rise nationwide, with the rate increasing by 30 percent since 1999, according to a report last year from the Centers for Disease Control (CDC).
Researchers found that more than half of people who died by suicide did not have a known diagnosed mental health condition at the time of death.

Relationship problems or loss, substance misuse; physical health problems; and job, money, legal or housing stress often contributed to risk for suicide.
"From 1999 to 2015, suicide rates increased among both sexes, all racial/ethnic groups, and all urbanization levels," the report said.
Middle-aged adults saw a particularly high increase in suicide rates, while those over 75 were the only group not to register a rise.
City officials encourage those contemplating suicide to call the #Suicide Prevention Hotline at 1-800-273-8255.
The hotline, which is available 24 hours every day, provides free and confidential support for people in distress, prevention and crisis resources for their loved ones.