By Lookout Staff
November 19, 2019 -- Downtown Santa Monica is being transformed into a winter wonderland for the holidays where visitors can stroll under the glow of thousands of colorful lights and glide on real ice.
The daily Winterlit celebration -- which take place through January 20 -- offers a full calendar of events curated by Downtown Santa Monica, Inc. (DTSM).
"'Tis the season to mix, mingle, and be merry at Winterlit events all season long," Downtown officials said.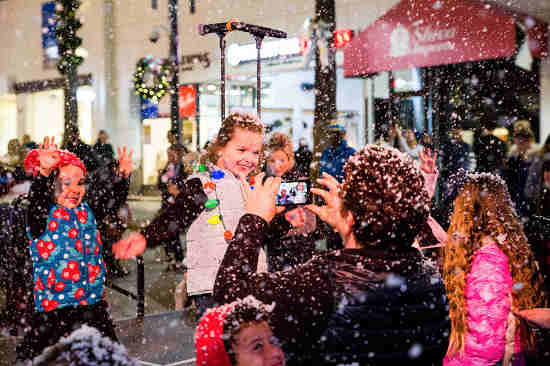 Winterlit in Downtown Santa Monica (Courtesy DTSM)
Offerings include Ice at Santa Monica, an 8,000-square-foot outdoor ice-skating rink presented by the Plaza at Santa Monica ("Making Memories on Ice in Downtown Santa Monica," November 1, 2019).
Every Sunday for nine weeks starting November 24, Ice Breakers presents an eclectic array of weekly musical performances at the rink.
There is also a "one-stop shopping experience for stocking stuffers at the all-new Winterlit Holiday market," Downtown officials said.
The market -- which offers unique creations from local artists -- kicks off at the official City of Santa Monica tree lighting ceremony Thursday, December 5.
The market takes place December 6 to 8, 13 to 15 and 20 to 22. Hours are from 3 to 8 p.m. on Fridays and 11 a.m. to 8 p.m. on Saturdays and Sundays.
Santa arrives this week to pose for photos at his ocean-side workshop in Center Plaza at Santa Monica Place from November 21 to December 24. Reservations can be made online at SantaMonicaPlace.com.
On December 4 from 11 a.m. to noon, Santa Monica Place offers a Holiday Kids Club featuring holiday-themed kid's entertainment, including storytelling, music, games and other fun surprises in the Food Court and at SaMo's Playhouse on Level 3.
Santa will be on hand to help Santa Monica officials with the tree lighting ceremony on the Third Street Promenade that features snow on December 5, from 6 to 9 p.m.
Then, on December 7 he'll show up for breakfast at SaMo's Playhouse from 9 a.m. to 10:30 a.m. Children of all ages are invited to celebrate the holidays and enjoy breakfast treats, music and crafts.
Furry friends -- dogs and cats on a leash or in a carrier -- can take part in Santa Monica Place's special pet nights and "sit" for a photo with Santa on December 11 and 18 from 5 to 8 p.m. Reservations can be made at SantaMonicaPlace.com/Holiday.
From December 22 to 29, members of local synagogues and community groups celebrate the Festival of Lights this Hanukkah season. Lightings begin at Sundown.
For more information, visit www.downtownsm.com/winterlit