By Jorge Casuso
November 1, 2019 -- After skating for years on a patch of frozen lake her father would clear behind the family's Minnesota home, Kathleen Rawson knew the magic of spending holiday seasons on the ice.
So when U.S. skating champion Randy Gardner proposed plopping an outdoor ice rink in balmy Santa Monica some 15 years ago, Rawson, who runs the city's central business district, loved the idea.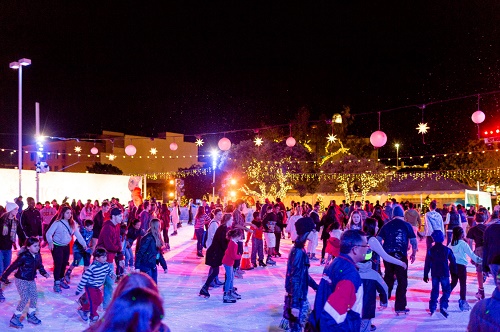 Ice at Santa Monica (Photo Courtesy DTSM)
But first, she had to understand "how you can physically do this" and, much harder still, find a big temporary space in the dense and pricey Downtown without removing parking.
Then, Rawson, who is CEO of Downtown Santa Monica, Inc., had to convince her board that it was worth taking the $60,000 gamble.
"It was risky," she recalled. "It was very risky."
The gamble paid off.
On Friday, skaters twirled and glided once again at Downtown's 8,000-square-foot ice skating rink when Ice at Santa Monica -- sponsored by the developers of Plaza at Santa Monica -- opened for its 12th holiday season.
"I love that it's a healthy thing to do," said Rawson. "There are kids who learned to skate at the rink who are competing on a national level.
"We've exposed a whole generation of kids who would have never leaned to skate."
The number of skaters, which include kids from the local Boys & Girls Clubs and PAL and the YMCA, has more than doubled since ICE was launched -- from 29,664 in 2007-08 to 62,552 in 2018-19.
"It's an institution at this point," Rawson said. "Our focus is making the experience great."
When Ice at Santa Monica was launched a dozen years ago, Pershing Square in Downtown Los Angeles was the only other place in the region to skate outdoors during the holiday season.
Since then, outdoor rinks have cropped up in Culver City and Beverley Hills and the San Fernando Valley, but the only ones that haven't suffered a financial meltdown are in Pershing Square and Santa Monica.
"Those were all private," Rawson said. "Profit was the bottom line."
By contrast, DTSM has run the rink as a non-profit venture ("Fantasy on Ice," October 11, 2007).
The location on a vacant City owned lot at 4th and 5th streets and Arizona Avenue that once housed a couple of banks and surface lots has been available at no charge since the rink first opened.
"When we were starting it was clear we had to have a permanent place for the ice rink," Rawson said.
Developers of Plaza at Santa Monica, a large mixed-use hotel development on the site, have said they would set aside the outdoor plaza for a skating rink each year, Rawson said.
DTSM has hired different companies over the years to set up the rink but the non-profit agency has taken over its daily operation, retaining the same two seasonal employees every year.
As a result, costs have been kept down.
For $15, including skate rental, skaters can take to the ice all day, leaving to shop or dine before coming back for another spin, Rawson said (For hours and events click here).
ICE also continues to turn a profit, netting between $150,000 and $200,000 each season, money that Rawson said is pumped back into community events DTSM stages year-round.
Perhaps best of all are the memories being people take with them that are priceless.
"We've had countless engagements at the rink," said Rawson, who puts the skates back on each year. "This is what our kids' memories will be made of."