By Lookout Staff

October 21, 2016 -- The ancient Aztecs celebrated what would become El Dia de los Muertos over several months, instead of a single day. Santa Monica will stay true to the tradition and mark the popular Mexican holiday with events over the course of two weeks.

Seven events held at six separate venues across the bayside city will mark "The Day of the Dead," a colorful time when family and friends gather to honor and celebrate loved ones who have died.

The main event -- which takes place Sunday, October 30 from noon to 4 p.m. at Woodlawn Cemetery -- features music and dance performances, storytelling, a procession and a ceremonial blessing, cemetery officials said.

"The range of events offers people of all ages a variety of ways to engage in, and become familiar with, the many aspects of this important and rich tradition," City officials said.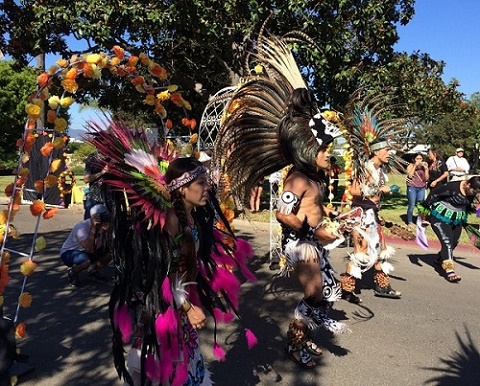 Ketzalitzli performing during Dia de los Muertos festivities last year (Photo courtesy of City of Santa Monica's Cultural Affairs Division)
The festivities kick off Saturday from noon to 2:30 with a harvest festival at the Santa Monica Main Library that features a Dia de los Muertos altar and "ofrenda," or offering, organizers said. There will be "calavera" (skull) painting and crafts for kids.
On Thursday from 6 to 8 p.m., the Santa Monica High School Roberts Arts Gallery will host an opening reception for an exhibition of art work by students from Samohi, John Adams Middle School, Grant Elementary and the Pico Youth and Family Center.
On Saturday, October 29 from 1 to 5 p.m., the Edison Language academy will hold a celebration that includes altar displays created by each class, homemade tamales, music and dance performances and traditional crafts.
The 5th annual Día de los Muertos event celebration at Woodlawn Cemetery on October 30 "includes traditions that are part of this ceremony both in Mexico and in the United States," organizers said.
The event features music and dance performances by Ballet Folklorico of Los Angeles, Cambalache - Son Jarocho Music, and Ketzalitzli and will be emcee'd by Betto Arcos.
The event will open with a procession and ceremonial blessing and includes "craft workshops where you can create offerings for loved ones, storytelling and a documentary about how families in Mexico prepare for this holiday," organizers said.
Fresh tamales, tacos and aquas frescas, churros and more will be available for purchase.

After Sunday's big day at the cemetery, festivities will continue Wednesday, November 2 from 4 to 5 p.m. with sugar skull decorating at the Fairview Branch Library followed at 6:30 p.m. at the Main Library with the screening of a documentary and a bilingual discussion about the holiday.
The festivities culminate Saturday November 5 with a celebration at Virginia Avenue Park from 9 a.m. to 1 p.m. that features a community altar, mariachi music, traditional pan dulce and hot chocolate, sugar skull decorating and other activities for all ages, organizers said.
"The Day of the Dead," wrote Elias Serna, an English professor at the University of California Riverside, is "a Mesoamerican ceremonial holiday going back several centuries across numerous civilizations.
The holiday "traditionally constitutes a deep collective mediation on the cyclical nature of death, departed ones, family and community," Serna wrote. "It is also rich in irony, mimicry and celebration." ("LETTERS: Dia de los Muertos: Against Forgetting and Cultural Imperialism," November 1, 2012")
For information on all events, dates and locations, visit http://www.smgov.net/dia. For parking information, visit venue websites directly.