By Jorge Casuso
August 10, 2016 -- Pianist and composer Dana Reason, a student of legendary avant-garde composers Pauline Oliveros and Alvin Curran, will perform in Santa Monica next Wednesday.
Known for her free-flowing but contoured improvisations, Reason will perform new works, improvisations and compositions as part of the "Soundwaves" concert series at 7:30 p.m. in the Main Library's Martin Luther King Jr. Auditorium, 601 Santa Monica Boulevard.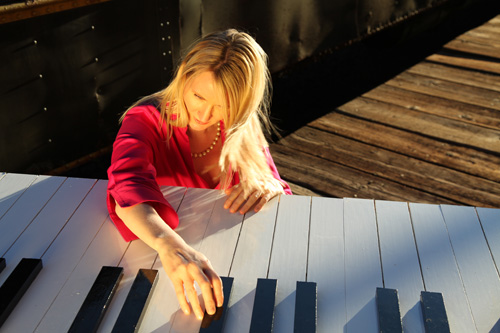 Dana Reason (Photo by Norman Korpi)
"Her work explores poetic, filmic and expressive templates that move fluidly between minimalist and maximalist musical tendencies, contemporary classical and improvisatory frameworks,song forms and post-1960s jazz topographies," event organizers said.
Reason, who is currently the Director of the Popular Music Studies Program at Oregon State University, was long-listed in 2014 for Grammy consideration as an arranger, composer and pianist.
"Add the name of Canadian Dana Reason to the front ranks of improvising pianists," Kirk Silsbee wrote in "Downbeat" of her 2010 release "Revealed." "Her attack has many gradations of firmness and degrees of shading.
"More importantly, though these pieces appear to be pulled out of the air, they often have a compositional contour, with beginnings, middles and conclusions," Silsbee said.
Reason has been a student of some of the biggest names in modern classical, jazz and electronic music. In addition to studying composition with Oliveros and Curran at Mills College in Oakland, she took piano classes with Christian Wolff, Cecil Taylor and Frederic Rzewski.
As a Ph.D student at the University of California, San Diego, Reason studied improvisation with renowned experimental composers George E. Lewis, Anthony Davis and Muhal Richard Abrams.
Performing with Reason will be Peter Valsamis, a "dynamic" drummer, composer and sound designer, and bassist Jeff Schwartz, "an adept performer of classical, jazz and experimental music" who is a member of the library staff and the curator of the concert series, organizers said.
For more information about the Soundwaves concert series visit soundwavesnewmusic.com
Wednesday's concert is free and open to the public, but seating is limited and on a first-arrival basis. The Santa Monica Public Library is wheelchair accessible.
For more information, visit smpl.org or contact the Santa Monica Public Library at (310) 458-8600.