By Lookout Staff
June 22, 2015 -- Works by veteran painter and California State University,Long Beach art professor Tom Krumpak, whose artistic career spans more than three decades, will be featured through this summer at Santa Monica College Emeritus College Art Gallery, officials announced.
"Built in Place," a mixed-medium exploration of place and being, begins with an opening reception on Thursday, July 9, at the SMC Emeritus College Art Gallery, 1227 Second Street, from 5 to 6:30 p.m. The exhibit continues through September 10, said SMC spokesperson Grace Smith.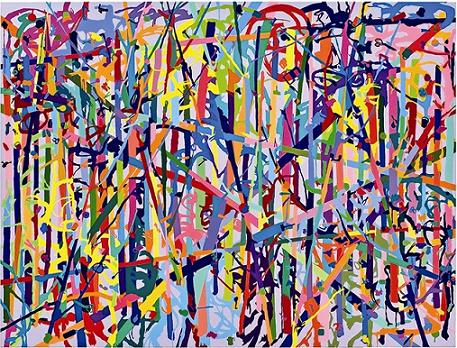 Image Courtesy Santa Monica College
Featuring both paintings and sculptures that incorporate abstract and everyday images, poetry and music lyrics and other elements, "Built in Place," will be available for viewing in Emeritus College's first-floor gallery from 8:30 a.m. to 4:30 p.m. Monday through Friday.
The opening reception and the exhibit are free, said Smith.
Since his artistic debut with his first solo exhibit, "New Paintings," at Metro-Goldwyn-Mayer Studios in Culver City in 1976, Krumpak has had his work shown in more than 100 exhibitions across the United State and in Europe and Korea.
His paintings combine countless elements of color and shape to pack a visual punch into each canvas, said Jesse Benson, director of Emeritus College Art Gallery.
"His paintings feature clustered colored shapes and silhouettes that overlap endlessly to produce potent colorfield abstraction, incredibly tight detailed rendering, and obsessive gathering of visual information," said Benson in a news release.
Krumpak earned a bachelor's degree in fine arts from the San Francisco Art Institute before completing his master's degree in art at CSU-Long Beach, where he has taught art since 1983. He has been chairman of various art departments at the university and has been a visiting artist and lecturer at universities in Italy and Great Britain.
"My artwork has almost always dealt with Place -- past and present," said Krumpak. "I am interested in the real place of intersection between the individual and the crowd, the private and the public.
"Therefore, while the artwork's composition may be based on plans, elevations, onsite photographs, it is also intermixed with elements of personal history such as poetry, music lyrics, tracings of collected items from travels, spoons and forks used to take liquid color of out paint cans in my studio."
Although primarily known as a painter, Krumpak recently began creating small-scale sculpture-combines in mixed media, which he describes as "very process-oriented in nature."
Two of the unique sculptures are included in the exhibit -- "Dim Dim" and "3516 Centinela," an homage to "my father's hardware store as Place," said Krumpak.
"They mate existing containers with inserted, treasured, and found objects, hand-painted scrolls and fitted paintings," said Krumpak.
Located in Downtown Santa Monica, Emeritus College was founded by SMC in 1975 to serve adults interested in life-long learning. It offers more than 120 tuition-free classes serving more than 3,000 students a year, said Smith.
For more information, call 310-434-4306, or visit www.smc.edu.emeritus.