By Jason Islas
Staff Writer
March 31, 2014 -- There was standing room only in the 10th-story lounge overlooking the bay where the League of Women Voters Santa Monica (LWVSM) gathered Thursday night to honor four of the bayside city's most influential women.
For their roles in shaping Santa Monica's future, from mentoring the youth to advocating for robust early childhood education programs to bringing the Expo Light Rail to the bayside city, the LWVSM honored long-time activists Irene Zivi and Rose Kaufman along with Director of Santa Monica Police Activities League (PAL) Eula Fritz and Deputy City Manager Kate Vernez.
"To be on the program tonight with the other women that I so admire and respect is a real thrill for me," Vernez told the audience which was also gathered to celebrate the 80th anniversary of the founding of the League's Santa Monica branch.
Vernez, who will retire this summer after nearly 30 years with the City, has been the face of Santa Monica in major intergovernmental issues, including the fight to clean up the bayside city's groundwater supply after it was contaminated by leaky underground gasoline storage tanks.
Kate Vernez and Anne Williams. Photos by the Lookout
The fight ended after Chevron and BP -- along with other oil companies -- agreed to pay Santa Monica a $250 million settlement, which the City used to clean up the groundwater and build a water treatment facility.
League of Women Voters of Santa Monica President Ann Williams -- a former Lookout editor -- quoted former mayor Richard Bloom who called Vernez "the Swiss Army knife of Santa Monica."
Former Parks and Recreation Commissioner Neil Carrey introduced Fritz, who became director of PAL in 2008.
"She is saving kids everyday and she just puts her heart and soul into it," said Carrey.
Speaking to the crowd Thursday night, Fritz quoted the adage, "It takes a village to raise a child.
"If you look at the youth here in the City of Santa Monica, the whole entire community cares for their well-being," she said.
Former LWVSM president Joanne Leavitt introduced Zivi, emphasizing the long-time activist's commitment to education.
"The national theme for Women's History Month this year is celebrating women of character, courage and commitment," said Leavitt. "I don't mean to slight the first two points, but tonight I'm talking about commitment. Long term commitment."
Zivi, who ran for City Council in 1984 but failed to win, has been at the forefront of bringing early childhood education opportunities to Santa Monica, Leavitt said.
She worked for the zoning code to allow day care facilities near family neighborhoods. She also helped to create a linkage fee between commercial development and child care. Zivi was also an advocate of working with Santa Monica-based think-tank RAND to help fund an early childhood education center near the Civic Center.
Twenty-four years after that work started, it will soon become a reality, said Leavitt.
Also honored Thursday's was Rose Kaufman, who received the League's Christabel Pankhurst Award, named for the daughter of radical suffragist Emmeline Pankhurst.
The 101-year-old Kaufman -- who was unable to attend Thursday's gathering -- was honored by the City of Santa Monica in 2007 for her decades of activism. Bloom officially designated August 19 Rose Kaufman Day and sang Groucho Marx's "Show Me a Rose" to then-94-year-old.
The LWVSM also celebrated the next generation of leaders Thursday, honoring several Santa Monica High School students for their role in shaping "their school community in all sorts of marvelous ways," Williams said.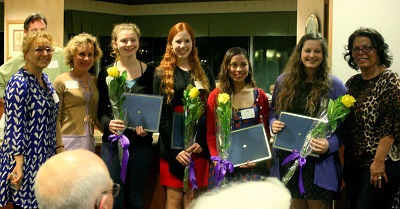 Santa Monica High School Honorees
Olivia Potash, Sedona Culp, Cynthia Cadena and Kathryn Oran were chosen by fellow students to be honored.