By Jason Islas
Lookout reporter

This article has been updated.
March 24, 2014 -- One of Santa Monica's most popular politicians failed to win the endorsement of the city's powerful tenants group Sunday, while its former mayor barely won its backing, although he faced no opposition.
With the June 3 primary election less than three months away, Santa Monicans for Renters' Rights (SMRR) voted to endorse former State Senator Sheila Kuehl over popular former Mayor Bobby Shriver in the Race for LA County Supervisor.
Former Mayor Richard Bloom barely got the nod in his re-election bid for State Assembly, while School Board member Ben Allen handily won the endorsement in the race for State Senate.
SMRR Members Mingle
Over the course of two hours Sunday afternoon, about 100 members of the city's single-most powerful political organization listened to speeches by the candidates running for the three offices -- State Senate, County Supervisor and Congress -- before casting their votes.
In order for the candidates to get the group's endorsement, they must earn at least 55 percent of those votes.
SMRR made no endorsement in the race to replace Congressman Henry Waxman, who is retiring this year after 40 years of representing the Westside in Washington D.C.
The powerful political organization voted by "a landslide" to support Santa Monica-Malibu School Boardmember Ben Allen's bid to represent State Senate District 26, according to SMRR officials.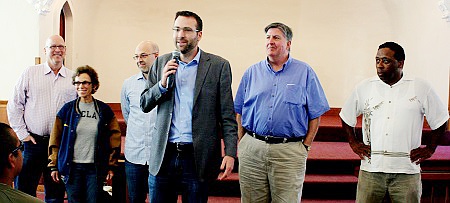 Ben Allen
The group also voted "two-to-one" to support former State legislator Sheila Kuehl's bid for County Supervisor over former Santa Monica mayor Bobby Shriver, officials said.
SMRR also voted narrowly to endorse State Assemblymember Richard Bloom's reelection bid, though Bloom's only opposition is a Republican. ("Santa Monica Mayor Poised to Head to Sacramento After Latest Vote Count," November 29, 2012)
"This is what democracy looks like," said SMRR Co-Chair Patricia Hoffman.
SMRR's endorsement ensures that the candidates will be on the organization's mailings that go out to Santa Monica's 61,000 registered voters.
State Senator Ted Lieu, former City Controller Wendy Greuel and self-help author Marianne Williamson all turned out Sunday to seek SMRR's backing in their respective bids to replace Waxman.
While SMRR did not release the official vote count, The Lookout learned that both Greuel and Lieu made a strong showing, each falling just shy of the 55 percent threshold.
Allen got the group's support for his State Senate bid over former State Assemblymember Betsy Butler and activist Sandra Fluke, who both attended Sunday's meeting.
That the group voted to endorse Kuehl over Shriver in the race to replace Third District County Supervisor Zev Yaroslavsky, who will leave his position this year due to term limits, was no surprise to political observers.
Though Kuehl was not present at Sunday's meeting, she was represented by SMRR's co-founder and former mayor Denny Zane. Her two-to-one victory was likely due to the fact that Shriver "wasn't seen as someone coming from SMRR," said Hoffman.
When Shriver -- a member of the Kennedy clan -- ran for City Council in 2004 and again in 2008, he opted not to seek SMRR's endorsement.
Though Sunday's meeting ran about two hours, it still only included a fraction of the candidates running for the three offices. The race for Waxman's seat alone has over 20 candidates in it, while there are eight vying for Supervisor and eight are running for State Senate.
"I guess they don't understand that SMRR and other community organizations turn out about 20,000 voters," said Hoffman of the absent candidates.
In each of the races, the two candidates with the highest vote counts will go on to the General Election in November, regardless of party affiliation.