By Jason Islas
Lookout reporter
March 7, 2014 -- Former Santa Monica Mayor Richard Bloom, who represents the bayside city in the State Assembly, announced Friday that he introduced a bill, that if passed, could end orca captivity in California.
Standing on the western edge of the Santa Monica Pier overlooking the bay, Bloom announced the introduction of the Orca Welfare and Safety Act -- AB 2140 -- which would outlaw "performance-based entertainment" -- like those at San Diego's SeaWorld -- and captive breeding programs for killer whales.

"It is time to end the practice of keeping orcas captive for human amusement," Bloom, who is up for reelection this year, told the small crowd of reporters and supporters gathered at the Pier Friday.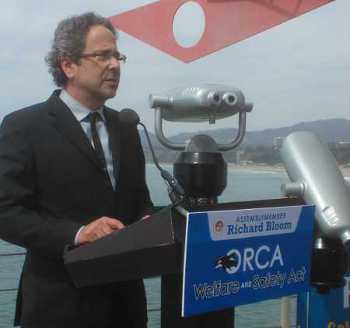 Bloom announces his new bill to protect orcas in California (Photo by Jason Islas)
Though they are protected under federal statutes, there are no California laws to protect orcas. But Bloom said as news broke about AB 2140, the positive support had been flooding in.
He was flanked by experts and former SeaWorld trainers who had worked with killer whales during their careers.
Even Jean-Michel Cousteau, a conservationist and son of ocean explorer Jacque Cousteau, chimed in via telephone to congratulate California in taking steps toward some of the most comprehensive orca protection legislation the U.S. has seen in four decades.
Bloom was also joined by Gabriela Cowperthwaite, director of the documentary "Blackfish," which tells the story of Tilikum, a performing killer whale that killed several people while in captivity.
Acts of orca-on-human violence have only been recorded in captivity, leading experts to believe such acts are an indication of the emotional trauma suffered by captive whales, said Naomi Rose, a marine mammal scientist who joined Bloom at the podium Friday.
While Bloom said that Cowperthwaite's film, which has come under fire from SeaWorld, was an inspiration for the legislation, so too was scientific research that shows that captive orcas live significantly shorter lives than their counterparts in the wild.
"There is no justification for the continued captive display of orcas for entertainment purposes," said Bloom. "These beautiful creatures are much too large and far too intelligent to be confined in small, concrete tanks for their entire lives."
In fact, Bloom said that orcas are second only to humans in their social and emotional complexity.
"In their natural habitat orcas are family-oriented, highly adaptable, socially-complex with cultural tradition and trail only humans as the most intelligent creatures on this planet," he said.

While SeaWorld and other similar parks will no longer be able to offer shows featuring orcas if the bill passes, Bloom said that AB 2140 was "not intended to harm" SeaWorld.
He celebrated the San Diego-based theme park for its marine rescue work, but he also said that he believed the company would do just fine without forcing orcas to perform for audiences under stressful schedules.