By Jason Islas
Lookout reporter

March 4, 2014

-- When City Hall began collecting the names of Santa Monica veterans who died during overseas conflicts for a new war memorial, Councilmember Bob Holbrook was surprised by what officials found.

Holbrook, who initiated plans for the new memorial at Woodlawn Cemetery in 2012, recognized the last name of one of the soldiers who had died during the Vietnam War. The soldier, Holbrook said, shared the last name of a childhood friend.

"It turned out that it was his brother," Holbrook said.

While this soldier was one of 23 Santa Monicans killed during the Vietnam War, he was buried in a Riverside cemetery. Holbrook thought that this soldier, and the dozens more from Santa Monica, deserved being commemorated in their hometown.

Once Santa Monica's new memorial is finished, Holbrook said his friend, who is the Council member's senior by a few years, will be able to "pay tribute to his brother" without traveling 70 miles inland.

If all goes according to plan, the new $16,000 memorial, which will be funded by donations from the community, will be ready in time for the City's annual Memorial Day commemoration May 26.

The City's rendering of the final design -- released Monday -- shows five stone obelisks, each bearing the names of Santa Monicans who died in service during all the major wars since the bayside city was founded in 1875.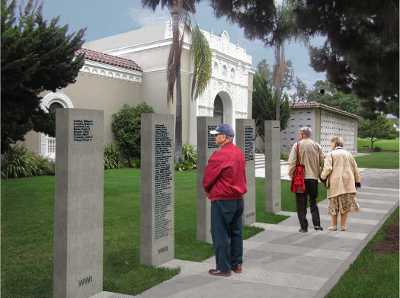 Rendering of the new war memorial design (Courtesy of City of Santa Monica)

"If we discover some people's names have been inadvertently left off, there's room to add them," said Holbrook.

The City has asked residents to help in identify those who meet the criteria for inclusion on the monument.

The monument includes not only those residents and natives of Santa Monican who died in service during armed conflicts, but also employees of the City and service men and women who had Santa Monica addresses when they were killed.

It also includes the names of those who died in service and chose to be buried in Santa Monica.

There have been seven major U.S. military ventures since Santa Monica was founded, starting with the Spanish-American War in 1898.

According to the City's records, no Santa Monicans were killed over the course of the four-month-long conflict. And, to date, no Santa Monicans have been killed in the current conflicts in Iraq and Afghanistan.

While there is also room to expand the monument to accommodate names from future conflicts, "we're hoping not to add any more," Holbrook said.

Over the course of the summer in 2012, an intern discovered that eight Santa Monicans had been killed during the First World War and 50 had died during World War Two.

"I've heard stories that there were a tremendous number of guys lost from the Pico Neighborhood," said Holbrook, referring to the causalities during World War II, many of whom were Latino.

Santa Monica lost another 13 residents during the Korean War and 23 in Vietnam. One Santa Monican died during the first Gulf War.

The project, officials said, is 80 percent funded. And Holbrook said the rest of the money has already been pledged.

"I think it's going to turn out fine," he said. Commenting on the design, he added, "I think it's appropriate."