By Daniel Larios
Staff Writer
July 14, 2014 –A seven-story mixed-used development project in Downtown Santa Monica that exceeds current density standards won the unanimous support of the Planning Commission Wednesday.
Commissioners Sue Himmelrich, Richard McKinnon and Jennifer Kennedy, slow-growth advocates running for three open council seats November 4, generally supported the 330,344-square-foot project that would replace the Fred Segal building at 500 Broadway.
However, there are certain aspects of the concept plans that are not in compliance with the Land Use Circulation Element (LUCE) and the Downtown Specific Plan, such as floor area ratio, floor plate ratio, and open space.

Although they expressed some concerns about height and density, the commissioners praised the proposed project one block from the future Expo Light Rail station Downtown that would replace the complex of small boutique retail stores with a much larger structure that includes a grocery store and outdoor plaza.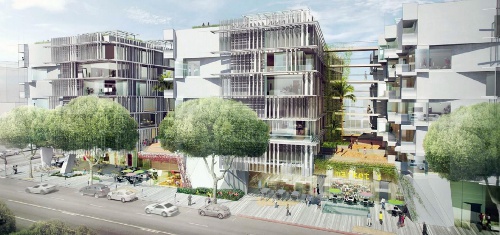 Photo by DK Broadway LLC.
"I like this building, and if this building doesn't comply with the standard then there may be something wrong with the standard," said Himmelrich. "I really like the building a lot."
"I do like the plaza on the corner of 5th and Broadway, which will provide retail and shade," Kennedy said. "It's one of the better aspects of the project, if not the shining star, and I think it's pretty great."

McKinnon, however, worried that the proposed project would block neighbor's views and that it was too large a building for the site.

"It's impressive architecturally, though it isn't yet finished," said McKinnon. "But the bulk and the mass do concern me, and every time I look at the drawings, I feel that."
The proposed 84-foot tall project consists of 39,600 square feet of ground floor commercial area – including a grocery store, fitness center and local small businesses --262 residential units and 577 parking spaces within a four-level subterranean parking garage.
The project proposed by DK Broadway LLC includes 52 studio, 128 one-bedroom, 54 two-bedroom and 28 three-bedroom apartments.
In May, some businesses located inside the Fred Segal complex were asked to move out as development plans became more concrete. Fred Segal's building across the street, at 420 Broadway, will not be part of the development.
During the meeting, eleven members of the public testified, most of them offering mostly positive feedback.
"I live about a half a block from this project, and I'm very impressed with it," said Brian Darrow, a downtown resident with two small children.
"I want to figure out how to get one of those three-bedroom apartments, actually," he added. "I think it's a great project. I like that there's going to be a lot of bike spaces."

"I look at this project and I see a developer who really wants to work with this community," said Frank Gruber, a former planning commissioner who announced last week that he would run for City Council.
"It's like the three bears," he said. "It's not too tall, it's not 20 stories that people would complain about. Its not boxy thick and stucco buildings that people complain about. It's got real architecture."
"A lot of my remarks come from being a denizen of Downtown," said David William Martin. "I love the complex geometries on Broadway and throughout the design. That's really important we haven't seen that in the city at any level."

Preliminary community benefits could include widened sidewalks, a publicly accessible plaza, contributions to open space, historic preservation and a local hiring provision.

The developer is also exploring off-site affordable housing opportunities with Community Corporation of Santa Monica (CCSM), the city's largest affordable housing provider.

"CCSM has advised the applicant their preference of an off-site option whereby CCSM would own and manage the affordable units," the staff report reads.
"I look forward to working with the development team and anyone else to create new affordable housing in the downtown area and other parts of the city," said Sarah Letts, the Executive Director of CCSM.
After the council completes its float-up review, it will return to the Planning Commission for an official hearing. The commission will make recommendations to council, which will review the project officially in a final hearing.