By Lookout Staff
January 28, 2014 -- Santa Monica police are looking for a suspect in a hit-and-run accident last Tuesday that left a teenage jogger in critical condition.
The accident took place at 10:50 p.m. on the 2300 block of San Vicente Boulevard when a dark gray Toyota Corolla struck a 17-year-old girl jogging near the curb, police said.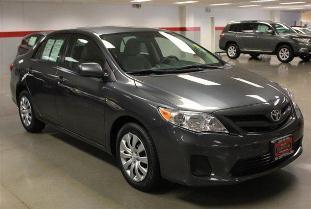 A car similar to the one police believe was invloved in Tuesday's hit-and-run incident (photo courtesy of Santa Monica Police Department)
Both were traveling eastbound, according to Sgt. Jay Moroso, the police department spokesman.
"The investigation revealed that the driver struck the jogger and continued eastbound, fleeing the scene without rendering aid," Moroso said.
A passing motorist saw the victim, who is a Santa Monica resident, and called authorities, according to police.
The victim was transported to a local hospital, where she was listed in critical condition, police said.
The suspect's vehicle is described as a "2010 to 2012 Toyota Corolla, magnetic gray metallic (dark gray) in color," police said.
"The vehicle is believed to have noticeable collision damage to the front end," said Moroso.
Anyone with information is asked to contact Investigator Jason Olson at (310) 458-8954 or Sergeant Phillbo Rubish at (310) 458-8950 or the Santa Monica Police Department (24 hours) at (310) 458-8495.
Those who wish to remain anonymous can call WE Tip at 1-800-78-CRIME (1-800-78-27643), or submit the tip online at www.wetip.com.
Anonymous tipsters can also contact Crime Stoppers by calling (800) 222-TIPS (8477) or by visiting www.lacrimestoppers.org.
Those who provide information leading to an arrest or conviction may be eligible for a reward of up to $1,000.