By Jason Islas
Staff Writer
February 24, 2014 -- Bobby Shriver, candidate for L.A. County Supervisor and former Santa Monica mayor, opened the doors to his new campaign headquarters Saturday.
A crowd of about 200 supporters -- including California's former first lady, Maria Shriver -- crowded into the former Bank of America building on Wilshire Boulevard Saturday afternoon to christen the new command center for Shriver's bid to replace 3rd District County Supervisor Zev Yaroslavsky.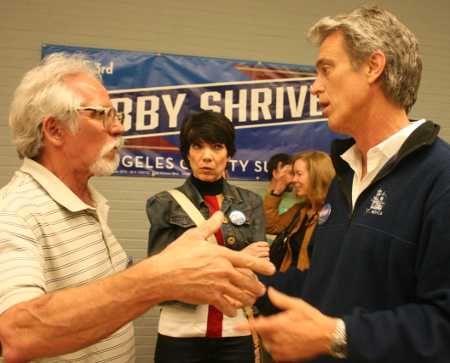 L.A. County Supervisor candidate, Bobby Shriver, talks to a constituent at the opening of his campaing headquarters in Santa Monica. (Photos by Jason Islas)
"What could be better?" asked Shriver, as he gestured to the crowded room. "It's great!"
The crowd mingled in the main room of the former bank, which was decorated with memorabilia of Shriver's philanthropic work with the Special Olympics and combating disease in Africa.
And, there were reminders of Shriver's Kennedy heritage, including a photograph of Shriver with his mother, Eunice Kennedy.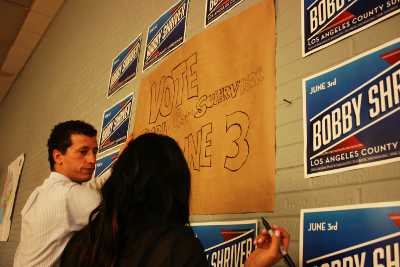 Volunteers put up posters reminding voters to turn out for the June 3 primary.
Shriver was introduced to the crowd by his former colleague, Santa Monica's longest-serving Councilmember, Bob Holbrook.
"He really cares about people," said Holbrook, with him Shriver served on the City Council for eight years. "He cares and he is really, truly qualified."
Also present were Santa Monica City Councilmembers Ted Winterer and Tony Vazquez, who, along with Mayor Pro Tempore Terry O'Day, have endorsed Shriver for County Supervisor.
Shriver is one of four candidates seeking a seat on the five-person L.A. County Board of Supervisors, which controls a $25 billion budget and oversees a vast network of social services for some of the region's neediest people. ("Former Santa Monica Mayor Bobby Shriver Announces County Supervisor Bid," January 22, 2014)
Also in the race is former State legislator Sheila Kuehl, West Hollywood City Councilmember John Duran and former Malibu mayor Pamela Conley Ulich.
With Yaroslavsky terming out after 20 years on the Board and three more Supervisors terming out in the next few years, Shriver reiterated his desire to "shake things up." ("Former Santa Monica Mayor Bobby Shriver Wants to Change L.A. County Government," January 23, 2014)

Susan Morrow, a local resident in the crowd Saturday, said she was supporting Shriver because she wants someone who is "looking out for the coast."
Since the County has jurisdiction over the L.A. coastline, she said she wants someone who will help protect the environmental resource.

"Zev did a really good job," she said. "Somebody needs to take it to the next level."

Antonio Sanchez, a special education assistant in the San Fernando Valley, agreed that Shriver would be the right choice.

"Bobby has the community behind him," said Sanchez, a member of the Service Employees International Union (SEIU), which represents about half of the County's employees.

Shriver also enjoys support from City Councilmember Tony Vazquez who celebrated efforts fighting the Veterans Administration (VA) to get more housing for homeless vets at the federal agency's massive Westwood campus. ("Santa Monica Throws its Weight Behind ACLU Lawsuit Against Local VA," June 16, 2011)
"He's got no problem taking on the administration," said Vazquez. "He's not afraid of doing the right thing and sometimes that means ruffling a few feathers."
Shriver opened his campaign headquarters about four months ahead of the June 3 primary election.
The top two vote-getters on June 3 will advance to the general election in November, unless one candidate gets more than 50 percent of the vote.