By Jason Islas
Lookout reporter
April 28, 2014 -- With about a month to go before the June 3 primary, former Santa Monica Mayor Bobby Shriver's bid for L.A. County Supervisor received a boost Friday from U.S. Rep. Janice Hahn.
Hahn announced her support for Shriver's bid to sit on the five-member L.A. County Board of Supervisors at his Santa Monica headquarters, where a handful of veterans, activists and nonprofit leaders gathered to tackle the problems facing the region's veterans.
.
Hahn, whose congressional district includes Compton, San Pedro and South Los Angeles, said Shriver was "emerging as the candidate and soon-to-be supervisor who will be the champion for our veterans" in L.A County, home to the largest population of homeless veterans in the country.
"It doesn't seem like to me we have in the county a champion," said Hahn, whose father Kenneth Hahn served on the Board of Supervisors for 40 years.
"You are a problem-solver; I have no doubt we're going to figure this out," she told Shriver.
Shriver is one of seven candidates -- including former state legislator Sheila Kuehl, West Hollywood City Councilmember John Duran and former Malibu Mayor Pamela Conley Ulich -- vying to replace Zev Yaroslavsky, who terms out this year after 20 years in office.
One of the most powerful local government bodies in the country, the five-member board oversees a region of about 10 million people and controls a $25 billion annual budget that partly funds a vast network of social services that some of the county's neediest residents rely on.
While there are many issues that lead to veteran homelessness, chief among them is the byzantine bureaucratic network that veterans -- many of whom are suffering from psychological and physical combat-related trauma -- have to navigate to get help, said Medical Director of Volunteers (VOA) of America Jon Sherin, who formerly worked with the U.S. Department of Veteran Affairs.
Veteran homelessness is a familiar issue to Shriver, who took a strong interest in the topic during his eight years on the Santa Monica City Council. He helped restructure the City's approach to homelessness, advocating and implementing a model of treatment that prioritized finding housing first for Santa Monica's chronically homeless population.
In his first year on the council, Shriver took on the Department of Veteran Affairs because he and other advocates claimed the federal agency had failed to make good on its promise to build supportive housing for veterans on its 387-acre West Los Angeles campus located about a mile east of Santa Monica. ("Shriver Pushes Campaign to Target VA Facilities for Homeless Vets," Dec. 21, 2005)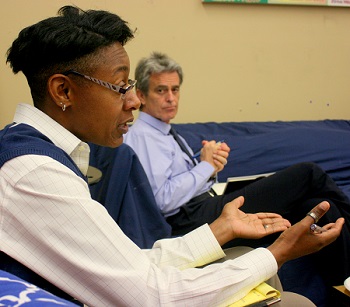 Tracey Cooper-Harris, service office with Veterans of Foreign Wars, talks veterans' issues with Shriver and Congresswoman Janice Hahn.
In 2011, with the VA slow to respond to political pressure, he signed on to a lawsuit filed by the American Civil Liberties Union claiming the West L.A. VA had misappropriated the land. ("Federal Court Rules West L.A. VA Land Must Be Used for Medical, Veteran Support Services," Aug. 30, 2013)
At Friday's meeting, Shriver was keen to know how much the County lobbies Congress about veterans' issues.
"There has not been one voice from the County of Los Angeles on veterans' issues," Hahn said. "It hasn't been a priority."
Housing was a major concern for those in attendance, including Hahn, who said there is not enough to help the county's estimated 6,000 homeless veterans.
Joel Roberts, CEO of People Assisting the Homeless, and VOA Director Bob Pratt said that funding housing projects for veterans had gotten much harder after the 2012 closure of California's 400 redevelopment agencies, which were a major source of money for affordable housing construction. ("Santa Monica Officials Alarmed by Governor's Plan to Axe Redevelopment Agencies," Jan. 13, 2011)
Roberts said that money from Sacramento, meted out by the County, goes a long way to help secure other money for such projects. But Shriver also wanted to know about county land on which nonprofits could possibly build projects.
While there may be underutilized land like County-owned parking lots that could be redeveloped for housing -- and the parking put underground -- there is no system in place to make that happen, Pratt said.
Roberts said that the County bureaucracy makes such a plan too cumbersome to be realized.
"They just don't have the vision," he said. "You might have the vision."
While infrastructure is key, so are perceptions, said one of the veterans attending the meeting.
Getting a job is hard, she said, because people see veterans as liabilities.
Education -- from the County and through local nonprofits -- about combat-related problems such as post-traumatic stress disorder could go a long way in making sure veterans aren't treated like second-class citizens, she said.