By Jason Islas
Lookout reporter
April 15, 2014 -- Dozens crowded into the second floor of a nondescript office building in a south Santa Monica business park on the east side of town Friday afternoon.

Banners and balloons decorated the walls along with maps of California's 26th State Senate District (SD26), which spans West Hollywood, West Los Angeles, Malibu and the coastal cities down to Palos Verdes.

This campaign is "going to be about getting the word out," Santa Monica-Malibu School Board member Ben Allen told the crowd gathered Friday to celebrate the opening of his campaign headquarters.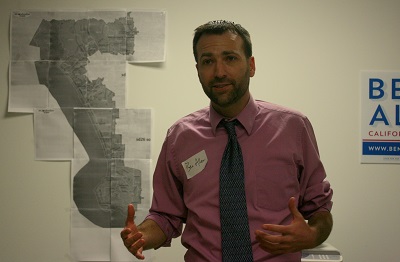 State Senate Candidate Ben Allen Addresses Crowd At His Campaign Headquarters Opening. Photo by Jason Islas for the Lookout.
Allen is one of seven Democrats in an eight-way race -- one candidate is running as an Independent -- to represent State Senate District 26.
Polling has shown the majority of likely voters hadn't heard of any of the eight candidates in the race, Allen told the crowd Friday. And with such a diverse district, Allen said, "it's going to be expensive" to get his message out.
Allen has raised about $185,000 and donated about $50,000 to his own campaign, according to disclosure forms submitted last month.
Gathered at Friday's opening were a number of Santa Monica civic leaders, including Mayor Pam O'Connor, former Mayor Mike Feinstein, Planning Commissioner Richard McKinnon and Ralph Mechur, vice president of the School Board, all of whom have endorsed Allen.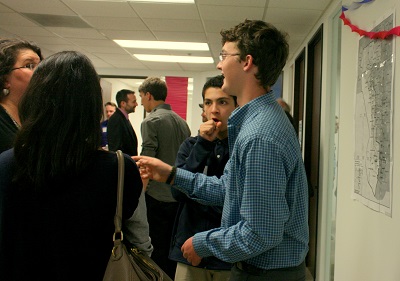 Campaign Volunteers and Attendees Mingling During the Campaign HQ Opening. Photo by Jason Islas for the Lookout.
With such a crowded field, the coming June 3 primary election is expected to be a hard-fought battle since only the top two vote-getters in the primary will continue on to the November run-off election.
Allen, who is one of two elected officials in the race, is squaring off against Manhattan Beach Mayor Amy Howorth, former State Assembly member Betsy Butler, activist and attorney Sandra Fluke and Colonel Vito Imbasciani, the State Surgeon of the California Army National Guard.
Political newcomers Barbi Appelquist, Patric M. Verrone and Seth Stodder -- the lone Independent candidate -- are also in the race.
But aside from Allen's short speech, the pressures of running a campaign seemed far from everybody's mind Friday night as the candidate and his "secret weapons" -- as he refers to his parents, artist and Arts Commissioner Elena and Chaucerian scholar Michael -- mingled with supporters as they dined on pizza and beer.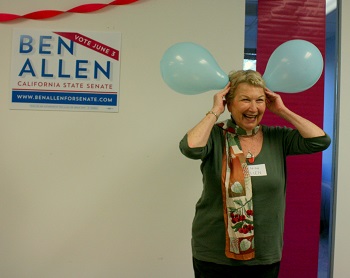 Candidate's Mother Elena Allen Entertains Crowd. Photo by Jason Islas for the Lookout.
"There was a wonderful energy in the room," he said. "A lot of enthusiasm. A lot of positive vibes."
And, Allen said, Friday's opening kicked off a good weekend for his campaign because on Sunday, he got the Los Angeles County Young Democrats endorsement.
Allen called it "a strong win" because it requires a vote of the majority of the organization's members to win the endorsement.
Friday was just the beginning, however, said Allen, who hopes to see his headquarters crowded with volunteers from now until the June 3 primary.
Related articles:
"Sandra Fluke Wants to Make Political Debut as Santa Monica, Southbay State Senator," March 28, 2014
"Top Army Surgeon Vies to Represent Santa Monica, Southbay in State Senate," March 4, 2014
"Manhattan Beach Mayor Makes Bid to Represent Santa Monica, Southbay in State Senate," February 26, 2014
"From School Board to State Senate, Santa Monica Native Hopes to Make the Leap," February 11, 2014