By Jason Islas
Staff Writer
September 12, 2013 -- Henry Hunt Jr. can remember a time when boats docked at the Santa Monica Pier, the Red Car took visitors to and from the beach and Leo Carillo rode his horse in the city's parades.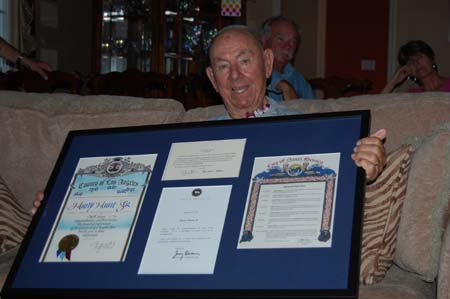 Harry Hunt Jr. proudly displays his birthday greetings from Governor Jerry Brown, Mayor Pam O'Connor and President Barack Obama (photo courtesy of the Hunt family)
At 92, Hunt who has lived all but two years of his life in Santa Monica, is a living witness to the bayside city's hitory.
In 1938, he played his bugle at the official dedication of Santa Monica's City Hall, and as a plasterer, his handiwork can be seen on many of the buildings downtown.
Sitting in the front room of his house, Hunt recalled his time in the city where he's lived since his family moved from Utah when he was an infant.
"I miss the parades," said the 92-year-old Hunt, who celebrated his birthday August 29. "I remember Leo Carillo riding down the street. Will Rogers would be on a jackass and he'd have a lasso."
As a kid in Santa Monica, Hunt said he would play the bugle all around town.
Hunt was the official bugler of Santa Monica's annual Memorial Day -- he called it Armistice Day -- ceremony at Woodlawn Cemetery.
A small-town boy, Hunt lived a largely carefree life.
"I was a good little boy," he said, laughing. "I was a worker. I sold papers."
Hunt acted out how he used to pull his wagon behind him loaded up with newspapers shouting, "Examiner!"
He recalled gathering bottles and returning them to a winery at Ninth Street and Pico Boulevard.
As a child, he was a bit accident prone. Every story he told ended with him breaking his arm.
"I had this birdcage," he said. "I climbed on top of it and was singing, 'Sailing, sailing.'" He fell and broke his arm.
Hunt graduated from Santa Monica High School in 1940 and spent two years at Santa Monica College before the war.
"I was at a school on Santa Monica Boulevard playing touch football," he said, recalling the day Pearl Harbor was bombed. "We got the news. I didn't know what to think."
Before long, he was overseas in England and though he was trained as a machinist, he ended up serving as a supply sergeant.
"When I got over to England, they didn't have any machines," he said through a laugh. Though that's where he met his future wife, Florence.
After the war, Hunt headed back to Santa Monica where he went to work for his grandfather plastering houses. Eventually, he sent for Florence to join him.
"Everybody liked her," he said. "And she loved Santa Monica."
It wasn't long before the couple had a home and Hunt developed a successful plastering business, a family trade.
Hunt "comes from a long line of plastering contractors," said his daughter-in-law Sandra Loden-Hunt. "Many of the buildings in downtown Santa Monica were plastered by Harry or another Hunt family member."

His job gave him the chance to meet the rich and famous of his generation, including Johnny Carson and Lucille Ball.
"I went to see Lucille Ball," he said, "and she invited me in for breakfast. Fried trout."

He declined. "I didn't have any appetite for trout!"
Hunt and his wife moved with their family from Ninth Street to his current home when the old neighborhood was demolished to make way for the freeway in the early 1960s.
The walls were decorated with family pictures, including one of Hunt holding a 182 pound marlin he caught on a fishing trip in Baja California.
His son, Bill, explained that his dad was an avid fisherman and used to have a boat docked at the Santa Monica Pier.
Much has changed in the bayside city since the early 1920s when Hunt's family settled here.
"There are a lot more people," he said. And Norms -- the recently-shuttered diner at the corner of Colorado Avenue and Lincoln Boulevard which opened 49 years ago -- is gone, he added.
"I have gone there since it opened," Hunt said.
For his 92nd birthday, Hunt got greetings from an illustrious list of people, including Santa Monica Mayor Pam O'Connor, County Supervisor Zev Yaroslavsky, Governor Jerry Brown and Senator Diane Feinstein.
His daughter had the collection of letters framed. "On behalf of a grateful Nation, we send our best wishes to you for a happy birthday," reads a small, white piece of paper in the center of the collection.
"During moments of great challenge and promise, your generation has played a vital role in changing our Nation's course," it reads.
As he smiled, Hunt pointed with a shaky finger to the central letter.
"That's from the President and his wife," he said, beaming.