By Jason Islas
Staff Writer
September 9, 2013 -- "I'm a pessimist trying to work on becoming an optimist," said Jerry Rubin, a self-described peace activist and perennial candidate for Santa Monica's City Council.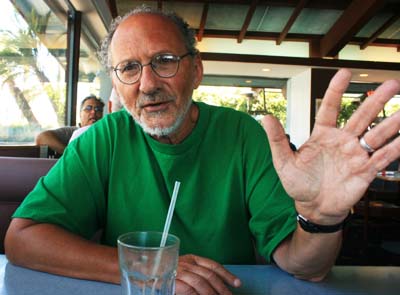 Jerry Rubin reflects on his 70 years at a local diner (photos by Jason Islas)
Sitting at a rustic diner in the town he has called home for a quarter century, Rubin talked frankly about the five times he attempted suicide, how he fought a drug addiction in the 1970s and how he struggles daily to remain positive.
"I just wanna see things get better," Rubin said. "It seems like it should be easier."
Three months before his 70th birthday, Rubin displayed an energy uncharacteristic for most septuagenarians when he talked about his myriad causes.
He ordered only an orange juice since, for the next 100 days, he will be on a liquid-only diet as a way to reflect on his seven decades of life. Between sips, he talked about the first time he ever went on a hunger strike.
"It was a protest against the Diablo Canyon nuclear power plant," he said. "I marched from the Pier to San Luis Obispo." His fast started when he arrived at the protest.
Since then, Rubin, who lives with his wife Marissa and their two cats in a condo in Ocean Park, has fasted almost every year to draw attention to one cause or another.
He has fasted to protest toy guns and the politics of the right-wing movement known as the Tea Party. In 1986, Rubin crossed the country on foot as a demonstration supporting global nuclear disarmament.
In 1997, he was nearly hospitalized after a 26-day water-only fast to protest Dreamworks' plans to develop on the Ballona Wetlands.
Rubin holds a protest sign at the meeting place of his activist support circle
Last year, he gave up solid food for 25 weeks. "I was fasting to get people to support and refurbish 'Chain Reaction,'" he said, referring to the 26-foot-tall sculpture of a mushroom cloud that sits outside Santa Monica's Civic Center.
Designed by the late Pulitzer-prize winning political cartoonist Paul Conrad, "Chain Reaction" combines two subjects near and dear to Rubin: art and anti-nuclear activism.
And since the City said two years ago that the 21-year-old sculpture may have to come down due to concerns about its structural integrity, Rubin has made it his goal to make sure it stays right where it is.
But Rubin's commitment to his causes is perhaps more personal than political. His story is that of the prodigal son.
Rubin described himself as an unsettled and aimless youth from a Jewish family in Philadelphia. He suffered from epileptic fits, would get beat up regularly at school and was in and out of trouble for most of his teen years, even spending some time in jail.

As a young man, Rubin had trouble holding a job -- he was once fired for punching a coworker who made a joke about President John F. Kennedy -- and in the late 1960s, he decided to head out west.
Once in California, Rubin promptly fell into the drug scene that had begun to pervade the counter-cultural movement in Venice Beach and Santa Monica.
Rubin recalled waking up to find his best friend dead, the victim of an overdose, on the floor of his Venice apartment.
"It was around this time," Rubin said. "It was around the Jewish New Year, Rosh Hashanah."
Rubin's political awakening happened simultaneously as he sobered up. After kicking his habit with the help of Westwood chiropractor, Rubin was invited to an Alliance for Survival nuclear weapon protest concert.
Rubin met his wife in the early 1980s and the couple married on June 12, 1983.
"Our wedding was a peace rally," he said. The couple married in front of a tree they had planted only a couple months earlier as part of an Earth Day celebration in Palisades Park.
To this day, Rubin passes the tree and hugs it on a regular basis.
His wedding ring is a heart with the peace symbol emblazoned on it and he readily -- and enthusiastically -- explains the origin of the famous symbol to anyone who shows the slightest interest.
It is a combination the letters N and D as they are represented in the Semaphore flag signaling system, he said, springing up from his seat in the diner to demonstrate.
"The letters stand for nuclear disarmament," he explained, adding that the symbol's origin story can be found on page 53 of Henry Dreyfuss' Symbol Sourcebook.
Rubin, who has sold bumper stickers of progressive slogans on the Third Street Promenade for more than a decade, started the activist support circle in 2005 to help guard his fellow activists against "activist burnout."
"All are welcome" is the slogan on the sign of the Quaker meeting hall where Rubin holds his support circle every month
In the seven years he has run the group, which meets every last Wednesday of the month at a Quaker meeting hall in Santa Monica, he has booked speakers like activist Tom Hayden, former L.A. City Councilmember Bill Rosendahl, Assemblymember Richard Bloom and State Senator Ted Lieu.
"It's a way to learn from other activists," he said.
Rubin attends nearly all the City Council meetings in his trademark basketball shorts and tennis shoes.
When he speaks, even on the most conentious issues, he is often the voice calling for reconciliation.
This year, he plans to run for City Council for the sixth time.
"I'm not going to win," he said. "It's not my intention to win." He hopes that his campaign, which he refuses to raise money for, encourages people to get involved in the political process.
"I'm going to run a clean campaign," he said. "I'm not going to bad mouth anybody."
While Rubin said he isn't religious, his is certainly a devotee of his causes and regularly preaches the gospel of civility and non-agression.
"You know what people's needs really are?" he asks rhetorically, balking at the suggestion that humans could be, by nature, prone to conflict. "We breathe the same air, drink the same water.
"If the people lead, the leaders will follow," he said. "That's on one of my bumper stickers."