By Jorge Casuso
October 23, 2013 -- If you run into a Santa Monica police officer soon, check out the new full-color badge that restores the image of City Hall missing for ten years.
The new redesigned badge – funded back in 2007 – will replace the current one depicting a gold image of the City's Public Safety Facility (PSF), which has been worn by officers since 2003.
"The new badge embodies the department's rich past, and acknowledges current attributes, while giving a nod to the bright future," Deputy Chief Al Venegas wrote in an information item to the City Council Monday.
The new badge depicts an "antiqued" image of Santa Monica's Moderne style City Hall building constructed in 1939, emphasizing "the return of City Hall to its historic coloring and as further acknowledgement of the past," Venegas wrote.
"The badge depicts City Hall, which indicates the Department's commitment to the municipal corporation that is the heart of the City of Santa Monica," Venegas wrote. "City Hall represents the source of the Police Department's legitimate authority to provide safety services."
The current badge was designed as "an acknowledgement of the significance of the Department's move into the newly constructed PSF," Venegas said.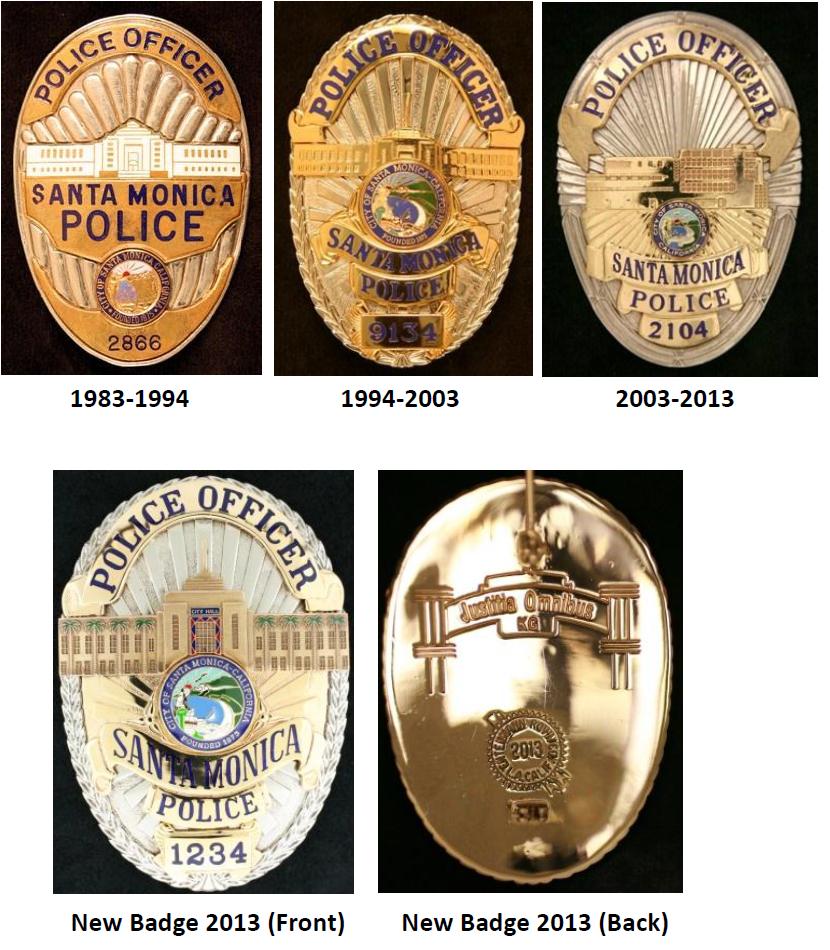 Image property of Santa Monica Police Department
Previous depictions of City Hall on the badge worn between 1983 and 2003 lacked color, using either white or gold. The new badge depicts the City Hall entrance in full color and the green-topped palm trees that line the historic façade.
"This is the first time color will adorn the badge beyond the City Seal and white façade of City Hall depicted on the badge worn from 1983 through 1994," Venegas wrote.
"The original marble white coloring of City Hall, like that of its antiqued replication on the badge, reflects different light patterns with the movement of the sun."
The new badge replicates the rising and setting sun, with the silver rays of the rising sun behind the facade and the gold rays of the setting sun at the base and surrounding the City seal, which remains the center piece.
Funding to acquire the new badges was included in the 2007-2008 City Budget when the late mayor Ken Genser successfully proposed to setting aside $50,000. But no action was taken until the Police Department moved to redesign the badge this year.
The new badge will include Ken Genser's initials after the Latin phrase Justitia Omnibus, meaning "and justice for all" in recognition of his role in securing funding.
"The Police Department has been advised by Finance to utilize funds from the operating budget and Finance will make an adjustment at year-end," Venegas wrote.
Entenmann-Rovin was chosen from among eight bidders and was awarded a purchase order in the amount of $50,000 "to cover the cost of the re-styled uniform badges."