By Jason Islas
Staff Writer

March 15, 2013 -- Santa Monica-Malibu Unified School District (SMMUSD) officials broke ground Wednesday on a new $16 million library and classroom building for Lincoln Middle School.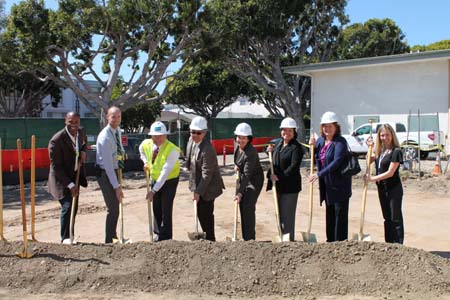 Officials dug in with gold shovels Wednesday to break ground on the new two-story building (photos courtesy of SMMUSD)
The project, which got underway in December, is funded by Measure BB -- a $268 million bond measure approved by voters in 2006 -- and replace Building C with a new building that will include a library, chorus room, six classrooms and two science labs with a shared prep room.
"The Lincoln Middle School projects are a testament of the positive impact Measure BB has on our community," SMMUSD School Board member Laura Lieberman told the crowd Wednesday.
The groundbreaking ceremony marked the beginning of the third of three phases meant to improve the Lincoln Middle School campus.
The first phase, completed in 2011, was "the installation of two relocatable classrooms, a temporary library, and a new 6-inch fire main line to service the upcoming library and classroom building," officials said,
Phase two, which was completed nearly a year later, "included renovating the former library and three classrooms into four new classrooms, two science labs, and a shared prep room," according to officials.
"The construction that has been completed so far at Lincoln Middle School has brought student, staff, and family excitement towards learning. We cannot wait for the next phase to be completed!" Lincoln Middle School Principal Suzanne Webb said.
Webb was just one of the SMMUSD officials in attendance at Wednesday's groundbreaking ceremony. Superintendent Sandra Lyon and Director of the Facility Improvement Projects Stuart Sam were both there, along with members of the construction team and the architect.
"We are looking forward to the completion of the new library and classroom building and the benefits it will have on current and future students," Sam said.
Officials estimate that the project will be completed by September 2014.
"The Lincoln Middle School project is made possible through a collaboration of various individuals and groups," officials said.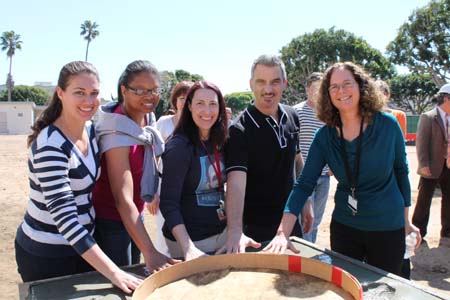 Lincoln Middle School teachers prepare to leave their handprints in the concrete tile
When the project is completed, "team members will participate in an 'All Hands United' concrete hand stamping project that will be preserved in one of the sidewalks," officials said, in order to "symbolize and capture the importance of these partnerships."