By Jason Islas
Staff Writer

March 11, 2013 -- "Look at this collection!" shouted Rocco Ingala, the owner of Angel City Books, Santa Monica's last used bookstore. Ingala looked more like an aging rock star than a book peddler, in his denim jacket and with his shoulder-length gray hair.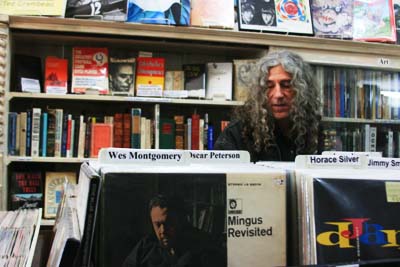 Rocco Ingala thumbs through his record collection (photos by Jason Islas)
When Ingala opened Angel City Books in 1998, it was the beginning of the end for many small bookstores in Santa Monica. While there were more than half a dozen such stores, the combined forces of the Internet shopping boom of the early 2000s and stiff competition from big booksellers who could more easily afford the ever-increasing rents in the bayside city, like Barnes & Noble and the now-defunct Borders, had begun forcing small bookstore owners to close-up shop.

Ingala's store is the only one that remains. "It's a small store," Ingala said. "Maybe that's why I survived."
He sat behind the checkout counter, crowded on all sides by dime-store copies of lesser-known Phillip K. Dick novels and boxes of vinyl records, ranging from Charles Mingus to the Beatles to Frank Sinatra. Over a pile of records in the corner, next to his chair, there was a hand-written sign: "Rocco's records – not for sale!"

Ingala was gesturing to a locked display case behind him. It's shelves were lined with classics: books by John Steinbeck, Jack Kerouac, Ernest Hemmingway and Kurt Vonnegut, to name a few. But the books behind the glass made up something more than just a collection of canonical literature.

Ingala rummaged around the shelves for a few minutes and produced a copy of Fear and Loathing in Las Vegas. It was a first-edition copy, autographed by Hunter S. Thompson and Ralph Steadman.

The bottom shelf of the case was lined with antique books, their titles embossed in gilded with gold leaf.

"Those are first-edition Mark Twain," he said. Considering they were over a century old, they were in great condition.

On the top shelf, there was a 1946 edition of Alcoholics Anonymous, signed by the program's founder, Bill Wilson next to a copy of the first American edition of Arthur Schopenhauer's philosophical works, printed in 1881.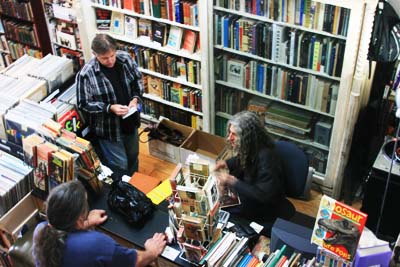 Rocco and his friend, Mike, buy books from a customer
After 15 years on the corner of Pier Avenue and Second Street, Ingala and his tiny enclave of books and records, show no signs of going anywhere any time soon.

Part of the reason the store keeps going strong is that in 1998, Ingala was ahead of the curve.

"I really didn't think I was going to make it without a strong Internet presence," he said. From 1998 to 2000, roughly 90 percent of his income came from online sales.

By 2008, he said, that number fell to 10 percent, so he quit updating his catalog online.
About five years ago, Ingala started selling vinyl records out of his store, a fact that he said "saved the bookstore's butt." Records account for about half the sales.

"I'm old-school again," he said. "It fits my personality."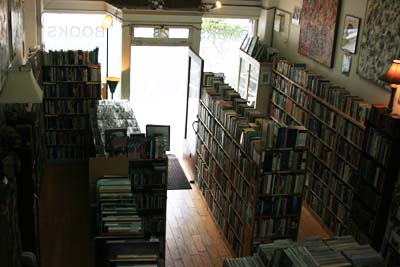 Ingala may be old-school, but he readily admits to being open to new things. He even owns a Kindle.

"I think it's compatible," he said, advocating for "a healthy balance of embracing new technology and alongside the old."

In 15 years, Ingala's small store has become very much a part of the community. The bookstore's shelves are lined with books commonly found on the reading lists of the local high schools.

A dozen copies of The Great Gatsby, standard reading for 11th grade honors students, sat on the shelf next to the checkout counter. Each copy had likely been bought from and sold to the bookstore by former students.

Once, Ingala remembered, a teacher from Santa Monica High School took a field trip with his Beat Poetry class to the bookstore, roughly a 15 minute walk from the school's campus.

Being in one place for so long, "you start seeing some people come in here from a very early age," Ingala said.

He recalled one time when a young man came in and asked a favor. The young man solicited Ingala's help in a scheme to propose to his girlfriend. The young man chose the bookstore as the place to pop the question because it was the place where, five years earlier, he had met his fiance-to-be.

"It's great when you can make a living off of something that you're knowledgeable and passionate about," said Ingala, an avid reader and a musician.

The store, he said, is an extension of his personality. Even the walls above the packed bookshelves are lined with paintings, Ingala's own work.

In 15 years, Ingala has managed to collect some interesting stories as well as rare books.

He said that sometimes David Mamet, himself a Santa Monica resident, will come by the store and come to the checkout counter with armful of his own books.

"I once sold a book to David Bowie," he said, a leather-bound copy of one of Plato's works. "I asked him if he wanted a bag."

"He asked me, 'Is it made of leather?' I said, 'No, it's just a plastic bag.' So he said, 'No thanks, then.'"