By Jason Islas
Staff Writer

February 19, 2013 -- Timothy Benge-Chadwick -- an "everyman" who wore numerous hats at the Santa Monica Playhouse, both on-stage and off -- died last Tuesday after battling a long illness. He was 57.

During his more than 30 years with the company, Benge-Chadwick worked as a performer, graphic artist, set designer and computer specialist.

"Tim was really what you call an 'everyman,'" said Playhouse co-founder Evelyn Rudie. "He did a little bit of everything.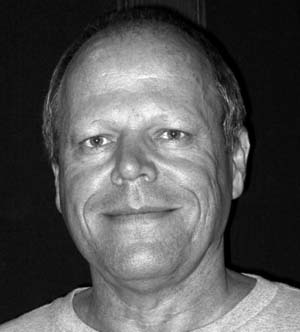 Timothy Benge-Chadwick. Photos courtesy of The Santa Monica Playhouse
"He was absolutely fearless when it came to just jumping into anything new," she said. Rudie recalled how a 27-year-old Benge-Chadwick came into the Playhouse in the 1980s looking to start a new direction in life.
Said friend and fellow Playhouse actor Celeste Akiki, "He was a classy gentleman. A really classy gentleman."
A philosopher major and U.S. Army veteran, Benge-Chadwick had been working as a nurse's aid when he decided that "he wanted to start something entirely new in his life, something artistic," Rudie said. So he began attending acting classes at the Playhouse.
Ryan Flegal, a long-time friend of Benge-Chadwick, said that the experience was transformative.
"Tim Chadwick was the grumpiest guy I knew," said Flegal, a former actor and teacher with the Playhouse. "He was reclusive. He was prickly. He smoked like a chimney. And he never, never invited guests to his home. That was Tim when I first met him. A man that was, justifiably, disgruntled with the world.
"Yet under all the anger and beyond the largely withdrawn person he had become," Flegal said, there was an incredibly articulate, wonderfully honest, and tremendously strong-willed person ready to radically reshape his life."
And he did. Benge-Chadwick started off helping to build and design sets for the Playhouse, but about five years in, Rudie recalled, he told her he wanted to be in a play, kicking off a three-decade-long career of acting with the Playhouse.
Timothy Benge-Chadwick
He also designed the Playhouse's computer box office system and web page as well as the cartoon graphics for Funny, You Don't Look Like A Grandmother. He also designed the special effects for Michael Green's The Art of Coarse Acting, a comedy about amateur actors, and nearly 100 logos for productions and special events.
Rudie remembered him fondly as someone who was good-natured and happy just so long as he knew the audience was enjoying the show, even when something went wrong on stage.
She recalled how Benge-Chadwick once got stuck in a prop tree stump on stage and several actors had to come and help get him out. Still, they couldn't get the prop off of him, so he exited the stage with the stump.
He -- and the audience -- liked it so much, they decided to keep the bit in future performances of the play.
Even toward the end, the Playhouse remained at the center of Benge-Chadwick's life.
"Up until three months ago, he was still coming in every day," Rudie said, adding that he would help with costumes or other tasks. "About a month ago, he didn't come in any more, he still managed the website."
Once he had been admitted to the hospital, he could no longer work.
"I visited him in the hospital two days before he passed away," said Akiki. "He had his eyes closed but he had a big, big smile.
"I held his hand for one hour and a half," she said. "I was just happy to talk to him, to tell to him that everyone in the playhouse, we love you."
Benge-Chadwick is remembered not only as a good friend but also a published author of short stories and poems, as well as an accomplished performer. He performed in the world premiere adaptation of Dostoevsky's Notes from the Underground and in Abandon All Hope, a play he helped write.
On the lighter side, he is also the originator of the role Stuffy Steve in the Family Theatre Musical And Awaaay We Go.
Benge-Chadwick will have a private military burial, Playhouse officials said. A memorial service will be held in his honor at Santa Monica Playhouse at a later date.
It was his wish that in lieu of flowers, donations in his name be made to the Cat Assistance Network c/o Nancy Barr-Brandon, Founder & President, P.O. Box B, Allenhurst, New Jersey 07711, catrescue@monmouth.com.