By Lookout Staff

February 6, 2013 -- Five short films by Santa Monica College students take a look back into the history of the Westside.

As part of the an interdisciplinary history-communications course, students put together five short movies that look at historical Santa Monica and neighboring Venice and Culver City.

The film "Douglas' Angels" gives viewers a brief introduction to the workforce of more than 60,000 women employed by the aircraft manufacturer Douglas Aircraft during the height of the second World War. (Click here to see the film)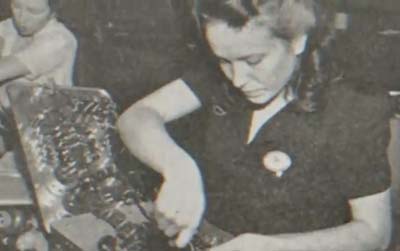 Women at work for Douglas Aircraft during WWII from "Douglas Angeles"
Chris Oakes narrates the three-minute mini-documentary in the style of an old-timey newsreel, dropping factoids about Douglas' ample female workforce, like the fact that 48 percent of women employed by the company worked directly on the manufacturing lines.
"The women of Douglas Aircraft, through their contribution, dedication and passion, have transformed the community of Santa Monica and made the victory overseas a local victory, preserving our American way of life," Oakes says.
Another three-minute film talks about Santa Monica's famous gambling ships. During Prohibition, entrepreneurs skirted gambling laws by hosting casinos in boats three miles off of Santa Monica's shores, just far enough out that the statutes didn't apply. (Click here to see the film)
"They had people lined up four abreast in Santa Monica. It was filled all night long," narrator Larry Balmagia says. He goes on to talk about Tony Cornero, the gambler and bootlegger behind the gambling ships.
One film focuses on the history of the Santa Monica Pier while another looks at the evolution of Santa Monica's southerly neighbor, Venice.
The fifth film covers the development of Culver City from two plots of ranch land to Los Angeles' first major movie hub. (Click here to see the film)
All five videos are available on SMC's Youtube channel.