By Melonie Magruder
Staff Writer
November 12, 2012 -- The Grand Opening of ICE -- Downtown Santa Monica's annual kickoff of the Winterlit Festival at the community ice skating rink located at Fifth Street and Arizona Avenue -- lived up to its name after lashing winds and rain lifted.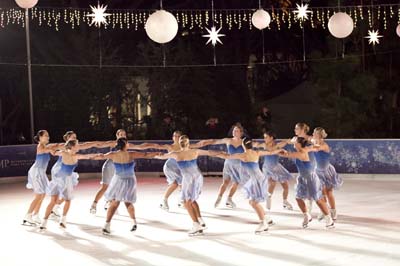 Photos courtesy of Brandon Wise
The evening's festivities unfolded on stage and on ice under calm skies and temperate weather, with just enough of a nip in the air to convince the huge throngs that a winter wonderland really was coming their way.
Face painting (courtesy of Santa Monica Playhouse) and holiday cookie decorating occupied the younger children. Crowds of local families, teens wobbling on unfamiliar ice skates, children in snowman costumes and a whole contingent of blue-shirted youngsters sponsored by the Police Activities League (PAL) crowded around the rink to watch gliding performances by local ice skating stars.
U.S. and World Pair Champions, and members of the U.S. Figure Skating Hall of Fame, Randy Gardner and Tai Babilonia hosted the event, looking every bit as elegant and in sync as they did more than 30 years ago.
Leading off the festivities were Santa Monica's Elite Skating Ensemble – Roxette Howe, Rockne Brubaker, Brandon Michael Larcom, Ben Blandford, Jennifer Don and Themi Leftheris – whose ice dancing seemed so effortless, more than a few young skaters tried their moves later and learned that a camel spin or a triple toe loop is not as easy as it looks.
The California Gold Synchronized Skating Team amusingly showed up looking like they would slide into a skated version of a dainty and ethereal "Swan Lake," only to quickly change the vibe into a swinging Busby Berkeley version of "Jingle Bells."
The winter season was brought to celebrants with snow blasting overhead and quirky, lighter-than-air I.F.O.s (Identified Flying Objects) periodically floating through the sky (I.F.O.s are foamy, whimsical shapes like stars and footballs that are blasted through a machine up into the air and float around like holiday totems in the night sky).
Downtown Santa Monica CEO Kathleen Rawson appeared a bit breathless at the holiday fun.
"Well, I'm very pleased that people came out despite the early rain," she said. "I'm just thrilled that we've had an incredible turnout. Isn't the band fantastic? You know, Santa Monica is a small town. The reason we even know the band is because our kids go to school together."
That band would be local rock/pop masters Venice, whose funky bass and shredding guitar solos back some of the most melodious vocal harmonies you'll find since Crosby, Stills, Nash and Young. As an added treat, the band was backed by a horn section fresh from classes at Santa Monica High School.
"This truly is a community event," Rawson said.
Venice is a community band. They have been playing together at local clubs, as well as performing with major rock stars like Bruce Springsteen, Don Henley and Sting, for 36 years and their kids all attend local schools. As lead singer Mark Lennon said, "We've played proms, homecomings, Christmas parties, weddings, funerals, everything. This community knows our music."
Lead singer (and brother) Kipp Lennon looks a little like a young Jackson Browne. The brothers come from a formidable local musical heritage: the Lennon Sisters, of Ed Sullivan and Lawrence Welk fame, are literally their older sisters.
"We grew up in this neighborhood our whole lives, so my sisters have always done benefits around here for years," Kipp said. "And we, as Venice, have been doing huge fundraisers for the music programs for public schools every single year. We've raised almost a million dollars in the last 10 years. Thankfully, they asked us to do this one and it's a lot of fun."
As the ice became more crowded, members of the Synchronized Skating Team would swoop in and catch someone just as they were about to land in a less-than-dignified manner. Helping the novice back up, the skaters in wafting blue chiffon would move on to the next tentative beginner, like graceful holiday angels.
"They all look so wonderful," said spectator Joel Leifer, watching the ice capades. "It's like being on the upper northeast coast, without having to deal with Hurricane Sandy."
Visitors can enjoy ICE daily until January 7. For more information, visit the website http://downtownsm.com/ice.