By Lookout Staff

November 2, 2012 -- The Santa Monica Police are asking for help identifying a suspect in a string of check forgeries at the Bank of America in Downtown Santa Monica.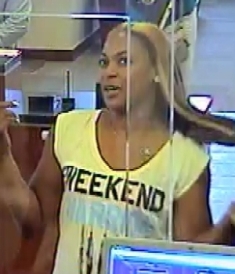 Forgery suspect (photo courtesy of SMPD)
The suspect, in her late 20s, is an African-American who has allegedly been stopping people outside the Bank of America at 1301 4th Street, asking victims for cash in exchange for fraudulent checks, officials said.
"Beginning in September of 2012, detectives have been investigating 4 separate cases where one of two suspects, using a ruse, contacted the victims as they exited the Bank of America," police officials said.
The suspects convinced the victims to deposit the checks and then withdraw the equivalent sum from their own accounts. The suspects then offer the victim a small amount of money for helping.
"Within a day or two, the victims learn that the check they deposited was fraudulent and they are out the money given to the suspects," officials said. "In each case, the average loss for the victim is $4,000 to $5,000."

The suspect police are seeking was caught on surveillance video and is described as having a "medium to muscular build, long dark hair with blond highlights and dark eyes," officials said.
She also has a tattoo of a "cherry or heart" on her right shoulder.
Not much is known about the second suspect, whom officials are describing only as an African-American female.
The Santa Monica Police Department is asking for the public's assistance in identifying a check counterfeiting and forgery suspect (pictured).

Anyone with information is asked to contact Detective Robert D'Andrea at (310) 458-2201 ext. 6679, Sergeant Henry Ramirez at (310) 458-8453 or the Santa Monica Police Department (24 hours) at (310) 458-8495.
Anonymous tippers can call 1-800-78-CRIME (1-800-78-27463), or submit the tip online at www.wetip.com.
Tipsters can also contact Crime Stoppers by either calling (800) 222-TIPS (8477) or by visiting their website at www.lacrimestoppers.org.
If the information leads to an arrest, the tipster is eligible to receive a reward up to $1, 000.00.