By Melonie Magruder
Staff Writer
May 7, 2012 -- In an era of budget cuts and declining performance demands from public education, Santa Monica has one public school whose accomplishments have continued to defy expectation.
Olympic High School, the alternative continuation high school in the Santa Monica-Malibu Unified School District, continues to deliver graduates from a student body sometimes given up on by others.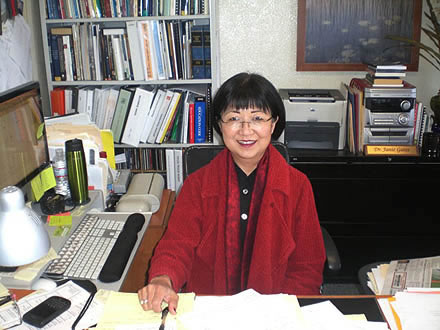 Olympic High Principal Janie Yuguchi Gates. Photo by Melonie Magruder
"Our school is for those students who are short on credits to graduate and maybe need an alternative learning environment," said Principal Janie Yuguchi Gates.
"Maybe our students need a flexible schedule because their afternoon job helps buy the family groceries. Maybe there are learning disabilities. Maybe there are behavioral issues that can't be dealt with in a traditional school setting. Our campus is very calm."
It is surprisingly calm. Murals are painted on the walls facing the parking lot – whimsical images of 1930 bathing beauties on the beach. Inside, the halls at mid-day are tranquil and teenagers quietly studying can be glimpsed.
In the courtyard, science and 20th-century film instructor Anthony Fuller briefly reminds a student to remove his cap before going into the building, then examines an insect found in the school vegetable garden. He welcomes a visitor into his classroom to speak freely in front of the students.
"Many of our kids grow up in worlds of deep secrets," Fuller said. "We try to be as transparent as possible."
Fuller has taught at Olympic for eight years. He said he himself had experienced difficulties in school but that his parents never gave up on him.
"It gave me a real perspective on how much a committed teacher can bring to a kid," Fuller said. "Traditional educational strategies just don't work for some.
"And in today's world of distractions, with video games, easy drugs, it's hard to motivate kids to care. What's great about this school is we find ways to help people enjoy learning."
Olympic has been operating 45 years, but it wasn't till Gates was hired that the school started really trending upward. She wondered why the school had never been accredited since opening in 1966, and immediately launched an application process.
Two years ago, the school finally achieved accreditation with the Western Association of Schools and Colleges.
Last year, Olympic High was awarded Model Continuation High School status by the California Department of Education. And between 2006 and 2010, the school's Academic Performance Index Score tripled.
The school currently has 120 students enrolled, but Gates isn't sure how big the graduating class will be this year. Some students manage to "pull through," and others need more time.
Gates says they take in new students from SAMOHI and Malibu High every three weeks, so the school population morphs regularly.
All students are required to fulfill a standardized curriculum, but they are helped with small student-teacher classroom ratios, project-based learning and intensive guidance and counseling. Some students end up returning to SAMOHI or Malibu High to graduate.
Marcia Gecht is in her 36th year of teaching at Olympic, the longest tenure there. Her classes include English, Government, Health, Economics and Criminal Justice.
"We have a great relationship with the Santa Monica police and fire departments, and they come to speak to our students all the time," Gecht said.
"Olympic is about learning and you need to find what works for them. It's about caring. And here, they find their voice."
Gecht said the school is such a tight-knit community that they don't seem to suffer from the epidemic of bullying seen in other schools. Nonetheless, some students come from difficult family backgrounds.
"When I started here, a counselor told me, if I can help just one kid who had had a big problem the night before, and get them through the day, I've done my job," Gecht said. "And so many have gone on to graduate and do really surprising things."
Gates says that extraordinary support from the City has helped keep students focused and motivated. City officials are regular visitors and speakers, including City Attorney Marsha Moutrie and City Manager Rod Gould, as well as School Superintendent Sandra Lyon.
Ray Garcia, Executive Chef at FIG Restaurant, helped the students establish their school garden. He also hosted students at his restaurant for dinner (food services is a very viable future career) and has prepared lunch for the school.
This year, the graduation ceremony will be held at the Miramar Hotel. As a way to raise extra funds for graduation expenses, Olympic has planned a Food Truck evening every Thursday. Gates sees it as a festive, community-oriented way to raise money for the school, since they've never been hugely successful at starting a PTA.
Like her school, Gates finds alternative ways to fix a problem.
"We give children a chance to regroup after crises," Gates said. "They overcome obstacles that can create learning problems in other schools, but it gives them a maturity that others might not have.
"They see that you can fail and overcome your failure. That's where I think we succeed."
Olympic High School's Food Truck evenings take place every Thursday from 5:30 to 9 p.m. in the school parking lot. Entrance is from Pine Street.