By Jason Islas
Staff Writer
Second in a series of three articles
June 20, 2012 -- As Common Ground finalizes its move from Bay Street to Cedar Street in Santa Monica, The Lookout is profiling some of the clients of the non-profit agency, which has been in the spotlight after neighboring residents tried to stop the move.
The agency, which expects to open at its new location in late summer, serves those who "historically have faced barriers in accessing health care: HIV-positive people, the homeless, those with mental illness, women, injection drug users... and youth," according to Common Ground.
Thirty-three year old Michael Andre Papiz, or Dray, as most people know him, once fit perfectly the category of a homeless youth and habitual drug user.
Dray looks like the type of guy you'd cross the street to get away from if your paths ever crossed. His forearms are covered in tattoos, and he wears a black baseball cap with the letters "L.A." embossed in black on the front.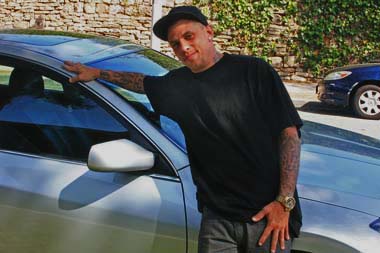 Dray poses with his new car (Photo by Jason Islas).
He arrived in Los Angeles' skid row on a bus from Washington D.C. some 13 years ago. "When I got off the bus, my heart sank. 'What did I get myself into?' I thought."
Dray comes from an abusive household and, even before arriving in Los Angeles, had spent time living on the streets. About 7 years ago, he found his way to Common Ground.
"My girlfriend at the time told me I should go," he said.
At first, Common Ground's Homeless Youth Peer Education (HYPE) program was a place he could get food and clothes and socialize, but there was something different about this place, he said.
"I felt so safe and not at all judged," Dary said. "They just talked to me, and it started to make me more aware of what I was doing."
Eventually, an internship with Common Ground opened up and Dray -- who had been spending more and more time at Common Ground, volunteering and working with other youth -- seized the opportunity.
"I felt like I deserved it," he said.
Dray landed the internship, a day he recalls with the proud wonder of a child who had just won a little-league baseball MVP trophy. "It was one of the proudest days of my life," he said.
But it wasn't long before Dray started slipping back into old habits, not showing up to his internship. And he started using drugs again.
He remembers hitting bottom, lying on the beach in Venice, his feet unbearably sore from all the walking, passed out while coming down off of meth.
He'd had to leave Santa Monica because the police had gotten to know him, specifically two officers.
"I remember their patrol car number," he said. "Whenever I saw that car, I'd jump into the bushes or run away, 'cause they knew who I was."
Eventually, he made his way back to Common Ground, his head hung low because he felt he had failed everyone there who had believed in him and helped. He was afraid he would be judged when he returned.
"But it wasn't like that at all," he said.
Dray currently lives in a Culver City apartment and works for Common Ground in a variety of capacities -- among them, he's a peer mentor and facilitates a mobile needle exchange.
Dray celebrates his sober birthday – the day he finally kicked his drug habit – every September 17. Last year, he said, those two patrol officers that he used to run from brought him a cake to celebrate.
"I've got their cell phone numbers in my phone," he said. "I can call them whenever I want now."