By Jason Islas
Staff Writer
June 13, 2012 -- Santa Monica High School alum Joe Green, pauses briefly from reading the steady flow of e-mails to look out the eighth-floor window of his company's Downtown LA office overlooking a refurbished Pershing Square.
Green, who graduated from SAMOHI in 2001, has spent the better part of the last decade dreaming up ways to change the face of politics by bringing the power of the Internet to grass-roots political organizing, and, on the eve of his 29th birthday, he may have accomplished just that.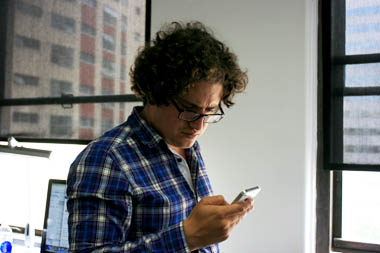 Joe Green pauses to check his messages (Photo by Jason Islas).
NationBuilder, the website he launched last April with entrepreneurs Jim Gilliam and Jesse Haff, is "about having a world where you don't have to ask permission," Green said.
"There are 509,000 elected officials in this country," he said. There are many people who have wanted to run for these positions, but "most of these people haven't had the tools to run their campaigns," he said.
The vision behind NationBuilder is clear: to transform the political process by making effective digital tools for organizing movements affordable and accessible to anyone with a passion, Green said.
For the price of a gym membership -- about $20 a month -- NationBuilder offers an "all-in-one product to run and organize a campaign," said Green.
"We're such a leap beyond the current technology," he said.
NationBuilder offers its more than 800 clients, which include Los Angeles mayoral candidate Eric Garcetti -- a place to interact with supporters, raise money, coordinate volunteers, and maintain a strong virtual presence.
The company is partly the result of Green's long-standing passion for politics.
Green -- who splits his time between Los Angeles and San Francisco -- got involved in Santa Monica politics while still in high school. His senior year, he served as student liaison to the School Board, which gave him his first chance to see the workings of local politics up close.
At Harvard, he remained fascinated with political and community organizing, taking an introduction to community organizing class with Marshall Ganz, who helped Cesar Chavez organize farm workers in the mid 1960s and served as a political adviser to President Obama during his 2008 campaign.
The class introduced him to the strategies of "building a movement," which involve exchanges of personal experience and storytelling, he said.
Green, who roomed with future Facebook CEO Mark Zuckerberg while at Harvard, recognized the Internet early on as a powerful social-networking tool to help exchange those personal experiences.
He spoke with Zuckerberg about building a social network around politics, Green said, but the future billionaire didn't share Green's passion for politics.
In 2004, Green took the fall semester off to work for the John Kerry presidential campaign in Arizona.
"It was my first, real experience with organizing," he said. It was there he realized "how deeply important social relationships are to organizing."
He also noticed that "better software could make political tasks more efficient," he said.
It was about two years later that Green first tried his hand at creating a platform that would help organizers reach out to their constituents. The result was an app for Facebook called "Causes," with the goal of empowering grass roots movements.
It was a huge success. To date, "Causes" has helped more than 27,000 nonprofit organizations raise $40 million, according to the "Causes" website.
But "Causes" turned out to be a big draw for charities, rather than political organizers, Green said.
Now, with NationBuilder, Green, his partners and a small team of programers and engineers -- including his younger brother Jacob -- are trying to turn the success of "Causes" into a political force.
"We want to open up (the political process) to allow more people to run," said Green. "We hope we've transformed the political process."
Though the company is young, Green is optimistic about its future. They have been profiled in major publications, including "The Atlantic," "The Wall Street Journal," and "Forbes."
And the clients, Green said, are satisfied. "The reaction when people see NationBuilder is 'Finally,'" said Green.
For more information, check out nationbuilder.com.