By Melonie Magruder
Staff Writer
June 12, 2012 -- If you've ever wondered what it's like to reside in a piece of local history, the Santa Monica Conservancy provided a glimpse last Sunday during its "Living in a Landmark" tour.
The tour opened the door, literally and figuratively, to some of the city's more culturally significant architectural treasures that are also places where people lead their daily lives.
The great American architect Philip Johnson once said, "All architecture is shelter, all great architecture is the design of space that contains, cuddles, exalts, or stimulates the persons in that space."
If residential architecture is a snapshot of a place in time, the six private homes selected by the Conservancy were fascinating examples of pre-World War I familial life that have been designated City landmarks.
Visitors were invited inside to share in the artistic vision and practical challenges architects of the era confronted when designing early 20th century homes. That so many of these buildings have been carefully preserved is a testament to the city's sense of history.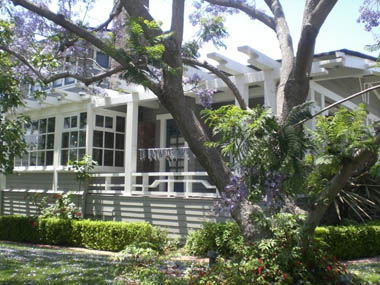 Outside of the John and Anna George House (Photos by Melonie Magruder).
The John and Anna George House, on Fourth Street, was originally built in 1911 by a Midwest businessman who thought to retire in Southern California, and then got involved in local politics (he was elected to City Council in 1913).
The home he built stayed in the family for generations, but by the 1970s, had decayed badly. New owners Myra and Earl Pomerantz hired renovation architect Carl Day, and the resulting rebuild restored many original features and faithfully replicated others.
The classic Craftsman design includes a broad front porch, wide gables, generous windows and that distinctive roofline. The interior has even more bygone-era features: vintage stained glass, trundle beds that roll from room to room, a plethora of wood built-ins, such as bookcases and cabinets, and reproduction Malibu tiles in the bathroom.
All the tours were accompanied by docents – Conservancy members who share their time and enthusiasm for period architecture, along with personal stories about the people who once lived in these buildings.
One docent pointing out the charms of the original kitchen design admitted that the wall over the sink had been knocked out to provide a picture window with an expansive view of the back yard and the Pacific Ocean beyond.
"Originally, there was only this tiny little window," she said. "In the early 20th century, they didn't really consider that housewives or cooks needed 'views.'"
The home at 2621 Second Street was originally the First Methodist Church (in fact the first church of any stripe in the city), built the same year Santa Monica was founded in 1875.
At the time, it was located at Sixth and Arizona Street, until the congregation, down to three members by 1883, thought it would be a good idea to move the church "closer to town," and they transported the whole building to FOURTH and Arizona.
It was finally moved to its current location in 1903 and a "social hall" was built on the back of the building, in an effort, docent Thomasine Rogas said, to "offer an alternative meeting place to all the saloons that were in town."
The building was finally decommissioned as a church in 1923, when the Church of Ocean Park was built next door, and became, variously, a meeting hall for Civil War veterans, a spiritualist church and a Progressive Club.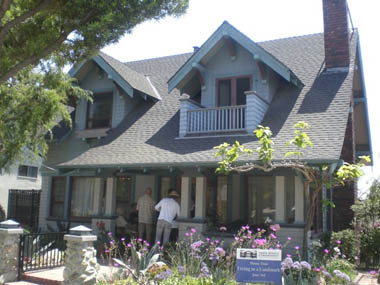 A crowd gathers at the Charles Warren Brown house.
Architect Charles Warren Brown designed and built his home on Third Street in 1908. Fortunately, it remained in one family for generations and is an example of dedicated stewardship.
Brown designed a steeply sloping gable roof, dormers, a deep front porch, and tied it all together with as much natural building material as possible.
Current owners Mike Salazar and Lou D'Elia are devoted to faithful preservation and have maintained as much interior originality as possible (only the kitchen and upstairs bath have been updated). When the Northridge earthquake damaged the chimney and fireplace, they masked modern repair with original bricks sliced into sections for veneer.
The décor inside is like stepping into a sepia-toned photograph. Dark wood wainscoting, pocket doors, beamed ceilings and classic Eames chairs live comfortably with modern-day art, a miniature car collection and memorabilia from the estate of Santa Monica woman aviatrix, Pancho Barnes.
Outside, an original Bachelder fountain bubbles in a tiled basin and vintage collector cars ('66 Ford Thunderbird Town Hardtop) are parked next to the curb. This is reverence for the past.
Conservancy board member (and owner of another Landmark property at Horatio West Court) Barbara Whitney summed up what such architectural stewardship is like.
"Living in a landmark?" she asked rhetorically. "It's endlessly pleasant and rejuvenating. Everybody should."
For more information on the Santa Monica Conservancy, go to www.smconservancy.org.