By Lookout Staff
June 11, 2012 -- Some of the world's top paddlers braved high surf at the start and finish lines Saturday, as they paddled, swam and ran in the 2012 Santa Monica Pier Paddle Race and Ocean Festival.
The third annual race, sponsored by Honolua Surf Company and Pacifico Beer, drew thousands of spectators throughout the day to watch the competition in events that included the long coarse paddle, short course fun paddle, one-mile ocean swim and the run-swim-run.
Paddle Racer with Pacific Park Wheel in background. (Photos by Jeff Berting)
There was also live music, hula dancing and dozens of vendors and historic exhibitors, as well as paddle boarding greats from the sport's rich past.
"I think this is wonderful to see paddling coming back like this," said Esther Maire Lorenz, who won the US National Paddleboarding Championships at the pier back in 1947. "I just think there should be even more races."
Also on hand was Jericho Poppler, surfing's first Women's International Professional Surfing Champion in 1976. Poppler placed first in her age-class Saturday in the stand-up paddle race and the 2-mile fun paddle.
After seeing it popularity peak in the 1940s, when the pier was a hub for the sport, paddleboarding is making a strong comeback, event organizers said.
After surfing all but erased it from the sporting map, it began regaining popularity with the innovation of stand up paddling, or SUP, which originated in the Hawaiian Islands in the early 1960s using outrigger paddles.
Saturday's racers ranged in age from 9 to those well into their seventies.
Anthony Vela of San Clemente won overall in the 5.5-mile course with a time of 1:00:23. Kyle Power of Agoura finished only 23 seconds behind.
Candace Appleby once again won the women's category with a time of 1:14:12. For complete results visit www.pierpaddle.com.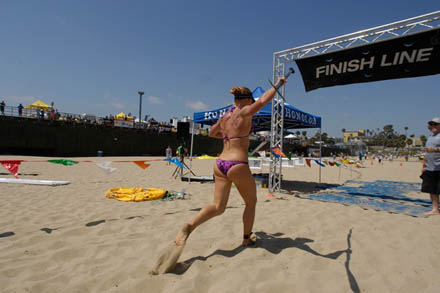 Women's winner Candace Appleby crosses the finish line.
A portion of net proceeds from Saturday's event will benefit Santa Monica-based Heal the Bay and the agency's Santa Monica Pier Aquarium.