By Jason Islas
Staff Writer
July 31, 2012 -- The Santa Monica Planning Commission voted 5 to 2 this month to recommend that the City Council move ahead with a mixed-use project that would add 300 residential units at the eastern end of Pico Boulevard.
The development is comprised of four buildings on two and a half acres currently occupied by the former headquarters of the Academy of Recording Arts and Sciences, as well as an abandoned cluster of residential units along Centinela Avenue.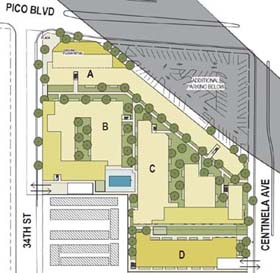 Photo courtesy of the City of Santa Monica
Proponents say the project would bring much-needed housing just blocks from a future Expo Light Rail stop. It also would help anchor a diverse retail strip near the 10 Freeway and add much-needed parking.
"I think the project could play an important role in this stretch of Pico, (which) needs more neighborhood services and pedestrian amenities," Commissioner Jason Parry told The Lookout after the July 18 meeting.
"It appeared consistent with the goals of the LUCE," said Planning Commissioner Jim Ries, referring to the Land Use and Circulation Element (LUCE) that guides development. "The question is, do the benefits justify Tier 3 development."
A Tier 3 project is the largest -- or densest -- development that can be built in a particular zone and requires the maximum amount of "community benefits" as part of the Development Agreement (DA), which allows the developer to exceed zoning and land use standards.
The proposed project -- which straddles neighborhood commercial and low density multiple residential zones -- will have three four-story buildings and one two-story building.
Among the benefits proposed are 45 units of affordable housing and 554 underground parking spaces, some of which could be used by motorists visiting businesses in the neighborhood.
"Parking can revitalize the area," said Ries. "But too much free residential parking will incentivize people to stay in their cars."
One of the stops of the future Expo line -- which is expected to arrive in Santa Monica by 2016 -- will be at Pico Boulevard and Bundy Avenue in West LA, only a few blocks from the proposed project.

The project -- proposed by Texas-based developer Trammell Crow -- promises approximately 5,000 square feet of ground floor retail space along Pico Boulevard.
But Parry said "there are questions" about the impact the development could have on traffic and pedestrian circulation in the area, as well as what possible health risks it could pose.
One of the four buildings proposed would be only 15 feet away from the freeway, which Planning Commissioner Richard McKinnon found unacceptable.
"On health grounds alone, I would never vote for a building 15 feet away from the freeway," said McKinnon, who along with Commissioner Ted Winterer cast a dissenting vote.
The project's proximity to the freeway and ample parking would also make it "too easy for people to drive cars," McKinnon said.
It is a concern shared by Randy Ball, who owns a frame shop two blocks from the proposed project. "Whatever they decide, they need to make sure that traffic doesn't get any worse," Ball said.
McKinnon.also worries that the location of the development won't entice pedestrians. "I am really skeptical that anyone would want to have a cup of coffee there," he said.
The Council will likely look at the project and decide whether to enter into negotiations on a Development Agreement sometime in October.
After that, the project will undergo a series of studies, including an Environmental Impact Report (EIR), which, Parry said, could take up to a year.