By Melonie Magruder
Lookout Staff
July 24, 2012 -- Mount Olive Lutheran Church celebrates its 70th year of worship in Santa Monica this month with much that is changing.
A new Master Plan is being developed to accommodate the expanding needs of the church on 14th Street and Ocean Park Boulevard. Pastor Stephanie Jaeger is ending her seven-year tenure, five of them as pastor, and the congregation is set to welcome her interim replacement, Steve Fiechter.
"We feel that Mt. Olive is a place of healing, transformation and joy for all people and faiths of our community," Jaeger said of the expansion. "Communities need spaces for public gathering.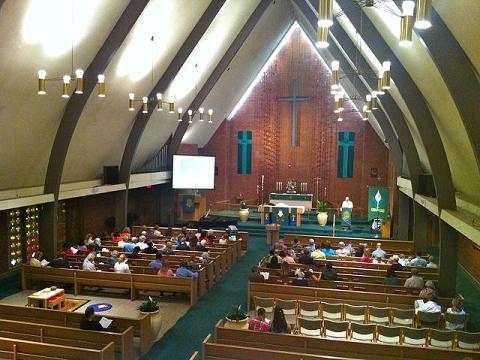 Mt. Olive Sanctuary (photo by Tiffany Petersen, Give Hugs Productions)
"There are no public squares around us, and we're working with an idea to create a public meeting space, whether secular or spiritual," Jaeger said.
The inclusive attitude is a bedrock principle of the Evangelical Lutheran Church. Jaeger said that Lutherans welcome anyone in the community for religious formation if they desire, but also as an obligation for stewardship of a peaceful and harmonious community.
Accordingly, their parish doors open as early as 7:30 a.m. and the church remain active till 10:30 at night. Preschool classes (first established 40 years ago), yoga, Alcoholics Anonymous, after-school programs, film screenings and music concerts keep the facility humming seven days a week. And music, Jaeger said, has always been an integral part of Lutheran services.
"Martin Luther introduced congregational singing as part of the 16th century Reformation to make worship more participatory with the congregation," she said. "Bach was the cantor at the Lutheran Church in Leipzig in the 18th century."
The Church has been known for progressive practices ever since Martin Luther nailed his "Ninety-Five Theses" on the door of the Castle Church in Wittenberg in 1517, challenging the Catholic view that grace was only attained through the Vatican. Pope Leo X promptly excommunicated Luther and the birth of Protestantism began.

Fast forward 500 years and the Evangelical Lutheran Church ordains women pastors, accepts gay clergy and finds spiritual inspiration in the music of Thelonious Monk as much as Beethoven.

In fact, Jaeger said the Church consciously creates an alternative economy for arts and music so that the community can participate without the financial strains of a Disney Hall.

Construction of current sanctuary circa 1961. Photos courtesy of Mt.Olive
"We see the arts as a divine gift and a spiritual vehicle," Jaeger said. "We don't charge for our concerts."
But perhaps the denomination's most progressive attribute is a democratic approach to church leadership and governance. Parish meetings are held according to Robert's Rules of Order and all aspects of governance – even finding a new pastor – are open to membership voting.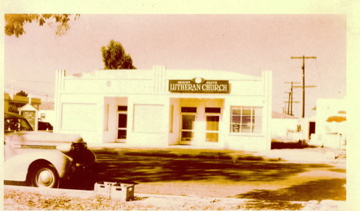 The building Mt. Olive met in on Ocean Park and 16th from 1942 to 1950.
Mt. Olive Lutheran Church was first established in 1941, with a service held for 12 congregants in a storefront next to a noisy bar on Lincoln Boulevard. By 1949, it broke ground for a sanctuary on two lots purchased at its current site.
The church attracted a number of young, educated Lutherans who had moved west to find jobs with the exploding aerospace industry, and the congregation continued to grow.
Jaeger's tenure at Mt. Olive seems almost "interim" itself with a mere five years at its helm. But she said that, simply, she has fulfilled her calling there and it is time to move on.
"My commitment was to re-root the church in the community," Jaeger said. "My calling was to help develop outreach to neighbors and strengthen Mt. Olive's voice in the neighborhood as a part of faith and build relationships with service providers. We've really expanded our outreach."
Jaeger is moving on to work with a "young congregation" in Chicago's South Side, where she is looking to help build a new community of inclusion and support.
She is leaving the congregation in the "wonderful, capable hands" of Pastor Steve Fiechter, who arrives having worked at churches in Canoga Park and Orange County.
Fiechter attended the Lutheran Theological Seminary at Gettysburg ("Where the first battle of Gettysburg was fought," he pointed out), but took some time off to get a master's degree in social work at California State University Dominguez Hills.
"I thought it would augment my ministry as well as be an invaluable philosophical tool," Fiechter said. "Outreach to the mentally ill and chronically homeless community can be a challenge.
"Often those ears are very open to a theological message or they are bitterly closed," he said. "I want to make sure that our facilities are available to the whole, diverse community."
Fiechter plans to work with other organizations in Santa Monica, such as Step Up on 2nd, a facility that supports those affected by mental illness.
But as "interim pastor," he said that his job is to help the congregation determine the type of leadership it wants going forward and lead in the effort to redefine the Church's mission in a changing local demographic.
"I'll have to work on my Spanish," he said laughing. "But it's part of our belief that we are truly a church for the whole community."
More information about Mt. Olive Lutheran Church may be found at http://www.mtolivelutheranchurch.org/.