By Jorge Casuso and Jason Islas
July 16, 2012 -- How do you rebuild aging parking structures without losing spaces? How do you free up prime parking for visitors without snubbing employees? And how do you make limited on-street parking more readily available to customers?
Those are some of the key questions being addressed by City and Downtown officials as they piece together a comprehensive parking system that attempts to strike a balance between competing needs, while helping to alleviate traffic congestion in the heart of Santa Monica.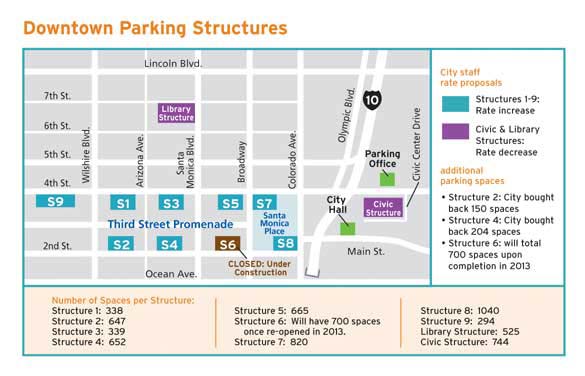 Map of parking facilities in and near Downtown. (Courtesy of Downtown Santa Monica, Inc.)
"We are working with the City to explore a variety of options," said Kathleen Rawson, president and CEO of Downtown Santa Monica Inc. (DTSM) "We have to look at all possibilities.
"If we don't change anything, it will continue to be frustrating to find parking, and parking is absolutely linked to congestion," Rawson said.
To tackle the twin problems of traffic and parking — two issues that consistently top the list of resident concerns — City officials, with the help of Downtown stakeholders, are taking a multi-pronged approach.
The pieces, which are quickly falling into place, include the recent restructuring of parking rates to offer Downtown employees affordable options in structures further away from the Promenade and installing parking meter sensors that guarantee spaces on the street turn over on a regular basis. In addition, the two hours of free parking at the Downtown structures have been reduced to 90 minutes.
The initiatives also include buying back private spaces long leased by companies to help replace the parking lost earlier this year when one of Downtown's nine public parking structures was torn down to rebuild a larger structure.
"The good news," said Robert York, a retail consultant for DTSM, "is the City and Downtown stakeholders are looking at all options as part of a comprehensive parking system to maximize the use of existing resources and look at what's needed to keep the area vibrant into the long term."
Parking Rate Changes
Visitors Downtown often circle inside the public parking structures searching for an elusive space to park. Since much of the parking is occupied by area employees who arrive to work early, City and Downtown officials want to encourage the daily users to park further away in lots with more inventory and lower rates, opening up those spaces for visitors.
And there's plenty of parking — as many as 1,600 available spaces — just a few blocks from the structures at the Civic Center and the Main Library, City officials said.
"We are adamant about offering a significant reduction on remote parking," Rawson said.
Last Tuesday, the City Council unanimously voted to raise rates and reduce free parking at the Downtown structures, while decreasing rates at the Civic Center and Library. The new rates will go into effect October 1. ("Santa Monica Raises Parking Rates," July 13)
Community Corporation of Santa Monica has been taking advantage of the lower rates at the Civic Center for a year as part of a pilot project that began last June, said Sarah Letts, executive director of the non-profit affordable housing agency.
Since Community Corp gave up its two dozen spaces in Parking Structure 6, which is adjacent to the agency's headquarters on Second Street, it has not only saved money, but staff is getting plenty of exercise, Letts said.
"It's worked out great," she said. "I walk half a mile to and from work and I feel perfectly safe. It's good exercise and cheaper. It's very positive."
Letts and her staff also use their monthly parking passes to get free rides on the Big Blue Bus, which they use to travel to the more than 1,000 units managed by the agency. She even used her pass to get a free pedometer at Parking Structure 4 to track her walk, which takes about 1,300 steps one way, Letts said.
While the Blue Bus is offering pass holders free rides, in June it pulled the Downtown Ride shuttle, which offered a similar service, due to poor ridership. But some Downtown stakeholders believe the shuttle — which averaged only 2.7 passengers an hour — should be revisited in the future.
"It's hard to argue with the fact that few people were riding it," York said. "But as more parking resources are put on line, the opportunity to do a shuttle properly will probably be viable again."
Meter Sensors
Visitors who have parked in some Downtown metered spaces recently may have noticed a small round glass embedded in the asphalt. These are the sensors the City began installing in March in Downtown and which will eventually be installed at Santa Monica's 6,000 parking meters.
The sensors are part of a new credit card and phone-enabled parking meter system that represents "the latest in parking meter technology" and provides "significantly improved parking management tools as well as customer service enhancements," Patterson said.
The system tracks usage and offers customers the option of paying by coin, credit card or phone, City officials said. Those who choose to pay by phone can receive text messages alerting them when the meter is about to expire. They can add time remotely, as long as it does not exceed the posted time limit.
A "max time exceeded" message will flash on the meter when time has expired. Unlike, the current system, the meter will not accept further payment. Those who feed a meter after the time limit has expired can be fined $64. When the space is vacated, the meter automatically resets.
Downtown officials say the system will help free up the much-coveted on-street parking spaces but warn that it will take some getting used to.
"The sensors can aid customer convenience, but there will be some behavioral changes," York said. "It is important to see street parking as a premium resource and operate it in that fashion."
Parking Buy Back
While changing parking rates and installing sensors will help free up spaces Downtown, those measures won't add any new parking spaces. And more spaces are sorely needed to replace the 342 spaces that were lost with the demolition of Parking Structure 6 that began earlier this year.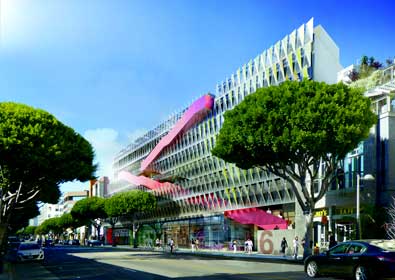 Rendering of Parking Structure 6. (ourtesy of the City of Santa Monica)
In an effort to avert a potential parking crunch, the City has bought back more than 350 parking spaces in Parking Structures 2 and 4 from two private companies Downtown. The companies had been leasing the spaces, which often remained empty during the day, for two decades, City officials said.
"It's a great idea that will be a real benefit to visitors and businesses and ease the burden of finding parking," said Patricia Hoffman, who chairs DTSM's Parking, Access and Circulation Committee.
"People like to find convenient parking and not get frustrated," Hoffman said, adding that motorists now pass rows of empty reserved spaces in the two structures while looking for available parking.
The lease for 150 spaces in Structure 2 was signed in 1968 with the owners of 100 Wilshire Boulevard and is held by Douglas Emmett Realty. While the lease for the 204 spaces in Structure 4 was signed in 1979 and is held by 1299 Ocean LLC, which owns the property at that address.
Under the agreements negotiated with the City, the two leaseholders will be reimbursed $20 per month per space for the parking spaces they don't use. The amount is $3 and $3.50 more than what the leaseholders pay.
Not only will the leaseholders see a net gain in revenue, so will the City, since a single parking space in Downtown Santa Monica generated $300 per month for the City in 2009, City officials said.
"It's a win-win for everybody," York said.
When Parking Structure 6 is finished next year, it will include more than 700 spaces, double its current capacity, Downtown officials said.
"We have a lot of parking infrastructure projects going on," York said. "We have to constantly monitor how the utilization is going and that the pricing is competitive with other shopping areas."
But Downtown officials note that some key pieces of the parking puzzle are still coming together, and that some of the pricing proposals may be adjusted before they are brought to the council.
"Parking and circulation is perhaps the number one issue in Downtown," Hoffman said. "By working with the City and the community, we are taking steps to address some of the stress of parking Downtown.