By Jason Islas
Staff Writer
July 12, 2012 -- In what is Santa Monica's first murder this year, a man was fatally stabbed early Wednesday morning in a high-end Downtown apartment complex rumored to have once been a popular hangout for movie stars.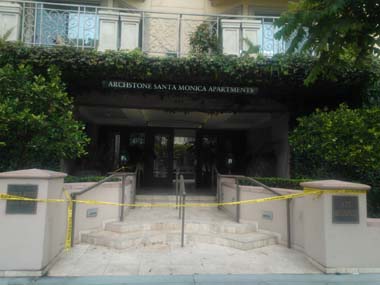 Photo by Jason Islas
Around 3:30 a.m., police responded to a frantic call from a woman who said that two men were fighting during "a gathering" at the Archstone Apartments at 425 Broadway, police officials said.
When officers arrived at the scene, they heard a woman screaming, said Sergeant Richard Lewis, the Police Department spokesman.
Inside the apartment, they found the victim -- a man in his 20s -- stabbed to death, Lewis said.
Officers detained several witnesses and arrested a suspect on the scene, Lewis said.
The suspect is being held in custody at Santa Monica jail, police said.
Built in 1931, The Archstone was originally built as the Lido Hotel. According to the apartment's website, the location was a haunt for some of Hollywood's great actors, including Humphrey Bogart and Marilyn Monroe.
It's also rumored to have been used as a recording studio for Janis Joplin.
The building is a high-end apartment complex with small studios starting at $2,000 a month. The complex was removed from the rent control rolls in 1986, according to Rent Board officials.