By Jason Islas
Staff Writer
July 4, 2012 -- Santa Monica Police Detective Larry Nicols sits under a fluorescent light, thumbing through pages in a black binder. The silver-haired man in a gray blazer smiling back at him from a glossy photo is Frank Perez, murdered in 1987.
Perez was a 62-year-old hair stylist at Hairbrains on Ocean Park Boulevard. When he didn't show up for a 9 a.m. appointment, his boss went to his house. She found Perez, with his arms and legs bound.

He had been strangled to death.

Despite the fact that, in 2010, when the case was reopened, testing found foreign male DNA on a toothbrush in Perez's apartment, the case remains unsolved.

"DNA is by no means the end-all-be-all," said Nicols, who heads the department's cold case division. "I need people who knew (Perez) and knew his lifestyle to come forward.

Perez in his apartment (Photo courtesy of Detective Nicols)
"It's not like on T.V.," he said. "The detective doesn't stand over the forensic tech's shoulder as the test results are revealed" and then the crime is solved.
It took two months before Nicols got the results back from the lab, and once the foreign DNA was checked against the FBI's Combined DNA Index System (CODIS), Nicols ran into another dead end.
There was no one in the system who matched the sample from Perez's apartment. That means whoever committed this crime was not a repeat offender. Or, Nicols said, may even be dead.
It's clear that whoever killed Perez, it was someone he knew.
Nicols glances over photos of Perez's apartment. There are no signs of a break in. There's a pillow on the couch and a duffle bag sitting on the floor next to a coffee table.
"He must've had a houseguest," Nicols said. "Obviously, that guest left in a hurry."
But there are no interviews with friends or family in the binder. There are no hints as to who that houseguest might have been.
The tale of this man's death is told mostly by gruesome photographs and forensic police reports.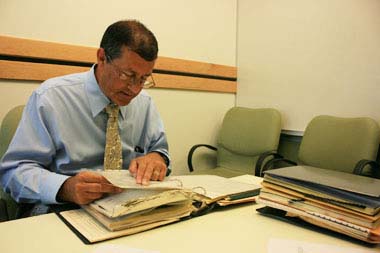 Nicols reviews the Perez case (photo by Jason Islas)
Back then, the Santa Monica Police Department was juggling an average of 12 homicides a year, Nicols said. With so little to go on, it's likely that detectives moved on to another case with more evidence.
"Without the pictures," said Nicols, "this file is really, really thin."
The Perez case isn't the only one of the 65 cold cases where DNA evidence has failed to help solve the crime.
In 1978, 27-year-old Joseph Sawyer was found bludgeoned to death in his apartment on Fourth Street in Santa Monica's Wilmont neighborhood.
Modern tests have found male and female DNA on some cigarette butts and a drinking glass, but again, there were no matches in CODIS and without more to go on, Nicols is stumped.
What are the odds that Nicols will find the perpetrator in this case? Or in the Perez case?
To that question, he only shakes his head. But he would like some closure, he said.
Those with information on the crimes should call the Santa Monica Police Department Cold Case Homicide Unit at 310.458.8451 or anonymously on the 24hr tip line at 310.458.8449 or WeTip at 800.78-CRIME.