By Jorge Casuso
August 29, 2012 -- John Cage, the most influential American classical composer of the 20th century, has direct ties to Santa Monica. As a young adult, the LA native worked as a gardener and lectured housewives on music and painting in the beachside city.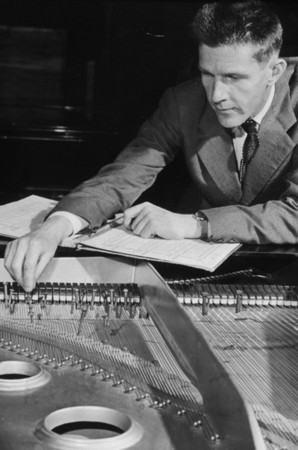 John Cage prepares piano (Photo courtesy of Zan Dubin Scott)
Next week, from Thursday through Sunday, Santa Monica will celebrate the centenary of Cage's birth with a four-day festival presented by Jacaranda that will feature some of the iconoclastic composer's best-known works, as well as a world premiere 20 years after his death.

"Some people say that he's not a composer, he's an inventor," says Patrick Scott, Jacaranda's artistic director, who caught the Cage bug when he bought one of the composer's albums in 1971. "That's just not true. Some of the early music is beautiful, and the conceptual pieces are very interesting."

Jacaranda will be sampling both, featuring his early works for prepared piano, where Cage turned the instrument into a percussive orchestra by inserting small objects inside the strings, to the infamous 4' 33'', or "silent sonata," where the pianist sits at the instrument without playing a note.

The Cage 100 festival also includes the world premiere of "Ten Thousand Things," which Jacaranda describes as "the simultaneous performance of five Cage works for solo musicians, often discussed by Cage as a work 'in progress.'"

"He intended them to be played together, and as far as we know, that has never been dome," Scott said.

The festival kicks off Thursday night, September 6, with "Cage & Friends" at the First Presbyterian Church of Santa Monica, a program of "early percussion works and innovative piano music" featuring compositions by Cage's early contemporaries Lou Harrison, Henry Cowell, Conlon Nancarrow and James Tenney.

The show includes a performance of Cage's "String Quartet in Four Parts," as well as excerpts from "Some of the Harmony of Maine" for organ with six assistants on organ stops. Performers include the Lyris Quartet, pianist Mark Robson, organist and Jacaranda music director Mark Alan Hilt, four singers, and a percussion ensemble led by Ted Atkatz.

Friday, September 7, will be taken up by a performance of "Vexations" an 1893 solo piano composition by the iconoclastic French composer Erik Satie, one of Cage's biggest influences, at the Miles Playhouse.

The show kicks off at 7 p.m. Friday and concludes some 24 hours later after 32 pianists repeat a single page of music 840 times to create an "amazingly hypnotic experience" that listeners can enter and exit at any point. Audience members are encouraged to bring cushions. The performance is free.

"Ten Thousand Things" will premiere Saturday September 8 at 8 p.m. at the Santa Monica Bay Woman's Club, where 80 years ago cage presented his lectures to Santa Monica housewives for 25 cents or as a package of eight lectures.

"He went door-to-door to the housewives and sold them the lectures," Scott said. "I think it's a really charming picture of a 20-year-old trying to make a living with his wits and interests."

Also performed that night by pianist Aron Kallay will be Cage's last "expressive" work "Perilous Night." Special guest speaker Eric Smigel will introduce the works and discuss Cage's years in Santa Monica. Musicians include John Schneider, voice; Tom Peters, double Bass, Kallay & Vicki Ray, playing prepared piano, and Lynn Vartan, percussionist.

The festival wraps up Sunday, September 9 at 4:30 p.m. with a performance of Cage's classic Sonata & Interludes for prepared piano performed complete by pianist Adam Tendler, a Manhattan-based pianist who has performed the work from memory in eleven states across the nation. He concert is free but reservations are required.

For tickets and information, visit jacarandmusic.org.