By Michael Aushenker
Special to the Lookout
March 25, 2011 -- It's not officially a national historical landmark, but perhaps Hotel Casa del Mar ought to be.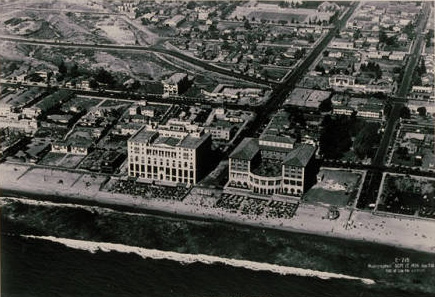 Vintage shot of Casa Del Mar. Courtesy of Santa Monica Library Archive
Bordering Santa Monica's boardwalk on 1910 Ocean Way, just south of Pico Boulevard, Casa del Mar is something of a dusky jewel, within spitting distance of Santa Monica Beach and across the way from its sister restaurant Shutters on the Beach.
While the present hotel didn't open its doors until 1999, the building will turn 85 years old on May 1. Wonderfully anachronistic, Hotel Casa del Mar boasts a vast lobby decked out with plush seats and cozy nooks, a grand piano, a roaring fireplace, and a clear view of the Pacific Ocean. The elegant seaside venue is akin to a place out of time; a postcard from another century, another epoch.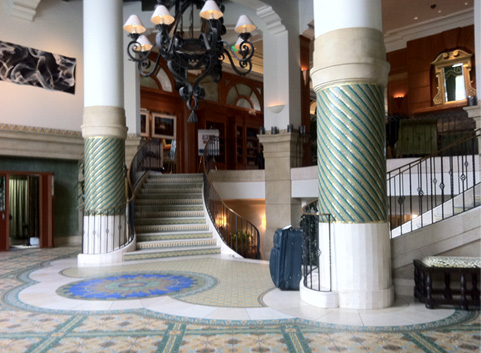 Casa Del Mar today. Photograph by Michael Aushenker
James Barela, the hotel's general manager, said that Casa del Mar has three things going for it that every hotel needs: "Location, location, location."
"You're on the west side of Los Angeles and you have the ocean as your draw," Barela said.
While post-economic meltdown 2009 proved to be a difficult year for California's hotel industry, Barela, who has been with the hotel since 2003, said business at Casa has gradually improved during the past year, partly because the hotel has created reasons for locals, in addition to travelers, to make the place a regular destination.
Under Barela's watch a few years ago, Casa del Mar followed up on an overhaul of its ocean-view restaurant with a program of live dinner entertainment, which has since spread to four nights a week and will, on April 14, round out five nights, from Tuesday through Saturday.
Another recent move to add to the Hotel's allure has been the fine art adorning the venue's lobby. "It fits in with our 'Live Well' series: good food, good drinks, good art, great spa," Barela said.
The first artist to show at Casa was Ed Massey, in conjunction with newly painted lifeguard stations. Shingo Francis followed and, presently, the works of Ken Solomon are on exhibit.
The lobby art stays up on something of a quarterly turnover, and the choices are surprisingly adventurous, as opposed to the non-threatening paintings of landscapes and swimming pools one routinely finds at hotels.
The lobby itself is a sea of comfy couches and leather chairs with a piano dead center to entertain the hotel's usually packed nether regions. Amid the class, there are even borderline-boardwalk amusements, such as pay photo booths, where visitors can capture themselves making silly faces.
The hotel also offers a spa and fitness center, and its 129 rooms are decked out with Fili D'Oro sheets and 42-inch flat-screen TVs, among other amenities. Room rates begin at $350 a night.
Living homage to the days when celebrities were spotted at the Brown Derby and Popeye the Sailor captivated the American public, Casa del Mar certainly wallows in a glamour that has not graced Santa Monica en masse since the turn of the 20th century.
On Saturday, May 1, 1926, Club Casa del Mar opened its doors, charging monthly dues of $10-$12. The brothers E.A. "Jack" and T.D. "Til" Harter, under the H&H Holding Company, erected Club Casa del Mar for a then-substantial sum of $2,000,000.
Architect Charles F. Plummer (who in the '30s had briefly joined forces with legendary Los Angeles architect Welton Becket and formed the firm Plummer, Wurdeman and Becket) designed the palatial building, which reflects an Italian Renaissance Revival aesthetic.
Club Casa Del Mar's glory days as the "Grande Dame" of Santa Monica spanned, in essence, from 1926-41, as it evolved into one of the most successful beach clubs in Southern California, even thriving through the Depression when rival beach clubs went under.
However, a downward trajectory followed as America entered the World War II. In 1941, the U.S. Navy took over the building, utilizing the hotel and recreation center for enlisted men. Post-war, Club Casa del Mar operations were in a constant struggle. In 1959, Til Harter came out of retirement to save the business, but the place was shuttered by the early 1960s.
The building enjoyed a couple of long runs as health-related venues. In 1967, Charles E. Dederich utilized the building for his drug-rehabilitation program, the Synanon Foundation, which existed at the location through 1978. In the late '70s, Nathan Pritikin turned the building into the Pritikin Longevity Center, a nutrition and health-care facility. By 1997, the Pritikin Center closed.
Later that year, the Edward Thomas Hospitality Corporation, owners of the adjacent Shutters on the Beach and the Andalucia in Santa Barbara, acquired the building and infused it with a $50-million-plus transformation. When the hotel opened in October 1999, Los Angeles Magazine gushed, "Once a roaring Twenties beach club, Casa del Mar has been restored to its Gatsby-esque glory."
In addition to the building anniversary in May, Casa will enjoy another birthday of sorts. Exactly four years ago this week, the previous incarnation of the hotel's restaurant, Oceanfront, was reopened as Catch. Chef Jason Bowlin created the menu, which specializes in seafood entrees and pasta dishes (and, of course, a sunset-spectacular ocean view). In came white leather chairs and dark woodsy furnishings with a sushi bar as its focal point. Chef Michael Reardon, formerly of the Hotel Andalucia, New York City's Le Bernardin and the Napa eatery Tra Vigne, served as the inaugural kitchen master.
Originally, when Catch opened, the live music experiment was regulated only to Saturday nights. "We kept adding nights because it became so popular," Barela said. "After 2009, we decided we were going to go for more than our fair share of it."
Today with Bowlin, now serving as chef, and a robust dinner entertainment slate ready to go, the hotel now offers locals and tourists alike a top-notch nightlife destination. The "Hotel by the Sea" entertains its customers with a musical slate from midweek to weekend that includes singer Barbara Morrison performing Wednesday nights, Stuart Elster Jazz Piano on Thursdays, and Erin Boehme on Saturday evenings.
"It's not overpowering entertainment," Barela said of the jazz and soft music acts that play at the hotel. "The room is large enough that we can accomplish that."
Members of the band Leftover Cuties, who perform a cover-free show every Friday night from 7 to 11 p.m., shared their enthusiasm for the hotel with the Lookout.
"We've been playing at Casa Del Mar on Friday nights since July 2010," said lead vocalist Shirli McAllen. "We really love the elegance of the place, and the diverse clientele it attracts. You never know who's going to walk in, and it's been a great home base for us to build a Friday night experience that people come back for week after week."
Band members also "enjoy the grand elegance of the hotel" and the opportunity to dress a bit more formally, according to the Leftover Cuties' drummer.
"Wow, the Casa Del Mar, where do I start?" said Stuart Johnson. "I love that we have the whole evening to let the music unfold, Friday nights...The cocktails are expert and the sushi is heavenly. I enjoy watching from behind the drums as the crowd changes throughout the evening.
"Returning customers greet each other, hotel guests find themselves mingling and conversing with the locals. The Leftover Cuties, of course, provide a unique soundtrack and a perfect social lubricant for all of this with our vintage instruments and thoughtful musicianship. It's a very friendly and warm scene."