By Melonie Magruder
Special to the Lookout
February 8, 2011 – The Santa Monica Library and the Office of Sustainability and the Environment joined forces last week with the Consulate General of Switzlerland to present a program illustrating the wild beauty of our planet and the threat to its survival from rising oceans due to climate change.
kissing seals. Photo by Daisy Gilardini
"Think Swiss-Brainstorm the Future" was introduced by Deputy Sustainability Officer Shannon Parry, who touted the city's ongoing progressive stance as a signatory to the Kyoto Protocol.
"We believe there is a profound relation between art, commerce, education and environmental protection," Parry said. "What you are about to see illustrates that."
With that, Swiss photographer Daisy Gilardini took the stage, Power Point in hand, to discuss her many years of travel in some of the world's coldest regions and the opportunity to see colonies of wildlife most people will never experience.
Gilardini began her career in accounting, but quickly realized that it didn't serve her muse.
She began serious study of photography and pestered ad companies to trade travel expenses for her passage to the world's nether regions in exchange for photos of their inhabitants.
In 13 years, she racked up nearly 40 expeditions to Antarctica and the Arctic Circle, sometimes spending weeks trapped in ice, enduring stomach-lurching ocean crossings, frequently unable to land for photography sessions because of rough seas.
"You get to the Antarctic Peninsula and see a colony of half a million King penguins and it is breathtaking," Gilardini said. "I would spend half an hour interacting with one chick and they are, of course, adorable."
Gilardini's photos captured close-up images of dozens of penguin species, seals, orcas, petrels, mystical skies swept by neon-bright Aurora Borealis, and the endless, magnificent expanse of Antarctic ice, with massive, dazzlingly white cliffs.
"The Ross Ice Shelf is just a huge chunk of ice the size of France," she said.
In 2003, Gilardini became interested in the Inuit culture and headed north. She gamely agreed to a cross-country ski expedition, starting at a latitude of 89 degrees in Svalbard, Norway, and trudging to the North Pole, pulling a 30-pound sledge.
On a trip to Churchill, Manitoba, she planned on photographing young polar bears in weather so cold she was obliged to hide her camera batteries in a pocket to keep them from freezing. Her task was made even more challenging by the capricious nature of the bears.
"I would be all set to shoot and the baby bears decided it was nap time," Gilardini said. "Five hours later in temperatures of 54 degrees below zero (Celsius) and you really have to know your camera and lenses. Wildlife photography is all about patience."
On another expedition circumnavigating Svalbard on a 15-foot long sailboat, she admitted to a little nervousness at the curiosity of one polar bear, unaccustomed to humans, who seemed determined to board the boat.
The arresting photos Gilardini took presented a side of Mother Nature not often seen and her message was implicit - these magnificent creatures deserve protection.
Scientists studying bears around the Beaufort Sea recently reported on a female polar bear swimming continuously over nine days and 426 miles, looking for sea ice on which to land – she lost her cub during the journey.
Because of the accelerating loss of sea ice, polar bears' status have been designated "threatened" on the Endangered Species list of the U.S. Fish and Wildlife Service.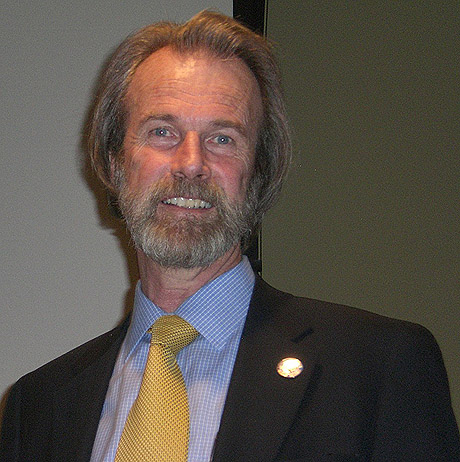 Environmentalist Konrad Steffan. Photo by Melonie Magruder
After Gilardini's slide show, Professor Konrad Steffan took the stage to give a scientist's dry view of results of climate change on earth's largest sources for fresh water – the Greenland and Antarctic ice caps.
Steffan, director of the Cooperative Institute for Research in Environmental Sciences at the University of Colorado in Boulder, has spent about five years out of the past 25 on polar ice, documenting snow melt, drilling ice cores and monitoring rising oceans worldwide.
In a series of Power Point graphs and images, he presented incontrovertible evidence of melting ice caps and rising seas, mostly due, he said, to the increase of greenhouse gas-trapping carbon in the atmosphere.
"Greenland's ice is 313 kilometers in the center," Steffan said. "If it melts, the world's oceans will rise six meters. While that might not affect Santa Monica as much because you have good cliffs, many parts of San Francisco will be under water."
The ice sheet melt on Greenland has increased 65 percent since 1979. At this rate, North American coastlines will see ocean levels rise 12 to 20 inches by 2100, Steffan said.
The earth's global temperature average has risen two degrees Celsius (about 3.6 degrees Fahrenheit) since 1991.
While that number might seem inconsequential, Steffan said, scientists tell us that incremental temperature increases will categorically result in pushed-back coastlines, warmer oceans that produce more severe tropical storms and hurricanes and drought conditions for large parts of the world – creating a new type of climate refugee.
Climate change is much debated these days, with the petroleum industry countering facts released by the IPCC (Intergovernmental Panel on Climate Change) as being "pseudo-science." Steffan acknowledged the challenge in keeping the social debate fact-centered.
"The most we can do is continue to show the evidence," he said. "We must keep the lines of communication open, because you cannot argue with the measurable facts."
More information on the Santa Monica Office of Sustainability & the Environment may be found at www.sustainablesm.org.