By Melonie Magruder
Lookout Staff
August 10, 2011 – One of the great advantages of Santa Monica's microclimate is its yearlong, forgiving growing season. Even the brownest thumb can turn out what your grandmother would call a "victory garden," and the city wants to make sure you do it in the most sustainable, environmentally conscious fashion possible.
The City of Santa Monica's Office of Sustainability and the Environment is not one of those little-known wastelands of obscure governmental bureaucracy.
Office of Sustainability shows how it's done at its demonstration
garden at Santa Monica Airport. Photos by Melonie Magruder
It takes very seriously its task of educating its citizens and providing creative opportunities to participate in the greening of the city while preparing for a 21st century future of resourceful water management.
Among the many programs the city offers to encourage sustainable landscaping for homes and businesses are free compost give-aways, like the one on August 27th (7:00 a.m. till 2 p.m. or while supplies last) at the city yards on Michigan Avenue.
And there's a seed distribution event from the Seed Library of Los Angeles on August 20 to offer open-pollinated, non-GMO (Genetically Modified Organism) seed stock.
Then there are a number of free sustainable landscaping courses for professional landscapers at Santa Monica College. There's a garden sharing program for residents who are short on arable land but long on gardening skills; a number of Green Living Workshops sponsored by the city's Sustainable City Plan; and a free, city-sponsored Green Garden Academy workshop that proved so popular last year, there is a waiting list to attend. This month's scheduled workshop, titled Lawn Be Gone had a filled reservation list almost instantly.
Who needs a lawn when we have native plants.
Ecological landscape design and water resource conservation expert Russell Ackerman launched The Green Garden Academy about 18 months ago and said that the program has been so successful, his goal is to train a legion of other master gardeners for an Ambassador Program who can then head out into the neighborhoods and spread the green mantra.
"Our Saturday workshops go three hours as it is and that's barely enough time to cover a subject," Ackerman said. "The city has landscape and irrigation standards that affect your design and the more participants we have, the more our city will fall into compliance with these standards.
"We're even doing an Honor Academy for graduates from last year," he said. "One of our students made a graduation robe out of weed fabric (that's the dark landscape fabric laid over soil to keep out weeds in a new garden, but allow air and water to penetrate)."
Facing long periods of drought conditions, Los Angeles County has for years encouraged careful water resource management. Thanks to conservation awareness programs in the 1980s, per capita daily water use dropped to 178 gallons per day (about half of what was used in cities like Sacramento). Today, the West Basin Municipal Water District has a program called Water Reliability 2020, aiming to reduce dependence on imported water to coastal L.A. from 66 percent down to 33 percent.
Such goals are what drive Ackerman and the city's Sustainability office.
"Santa Monica has a first-come, first-serve grant program that offers residents up to $5,000 to makeover their yard into irrigation-free, drought resistant landscaping," Ackerman said. "Since we launched the program, we've quadrupled the number of participants to the point where I think there might be a grant garden on every street. It's cool because you have a great new landscaped yard, but cut your water bills in half."
And for those who like the idea of using a front lawn to grow food, but don't have the time to till, the city's Community Gardens program will pair would-be farmers with busy landowners. The resulting harvests are split, social interaction is born and sustainability goals are met.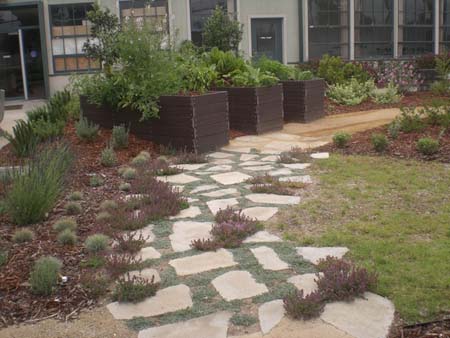 Veggies anyone?
And to illustrate the message of easily accomplished sustainability, the city will give a presentation of how to achieve perfect sustainable landscaping at its Demonstration Gardens Dedication Ceremony on September 27 at the airport. The program provides free designs, parts lists, support from participating stores, installation guidelines and long-term maintenance tips while giving guided tours of the newly planted garden on Airport Avenue.
A recent tour of the garden revealed succulents and other drought-resistant plantings, raised beds filled with tomatoes, peppers and kumquats and water-permeable pathways.
"We're even giving a Green Thumbs Up Award to our graduate who can take what they learn at the workshop and incorporate it into their home garden," Ackerman said. "The city gives people a lot of opportunity to not only do the responsible thing with their landscape plan, you can do it in a fun way."
More information on all the city's sustainable gardening programs may be found at www.sustainablesm.org.