By Jonathan Friedman
Lookout Staff
July 1, 2010 -- Hammers are swinging fast as workers continue to put together what officials are promising to be Santa Monica's next hotspot. It is a little more than a month from the Aug.6 opening day for the retooled Santa Monica Place, and although it appears much work remains to be done on the $265 million project, officials from mall owner Macerich say 75 percent of tenants will be ready for operation when the ribbon cutting ceremony takes place.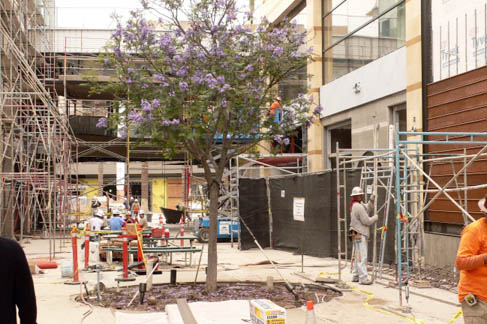 Photos by Frank Gruber
The 550,000-square-foot open-air mall stands three stories high and will feature Bloomingdale's and Nordstrom as its anchor stores. Many other high-end tenants will be included along the wide circular walkways on the first two levels. The top floor is dedicated to outdoor dining. There are "commitments" for approximately 90 percent of the tenant space, Macerich officials said. They include CB2, Burberry, Tiffany & Co., Juicy Couture, Louis Vuitton, Disney and Nike.
During a media tour on Wednesday, Mall officials boasted that Santa Monica Place will be unique on the Westside since all the tenants will be moving into their first location west of the 405. And despite the troubling economy, Macerich management remain upbeat.
"We're so pleased with the way everything has worked out," said Robyn Young, assistant vice president for development relations. "Even in the face of some headwinds, the retailers really recognize what a great opportunity this was and what a great market this is."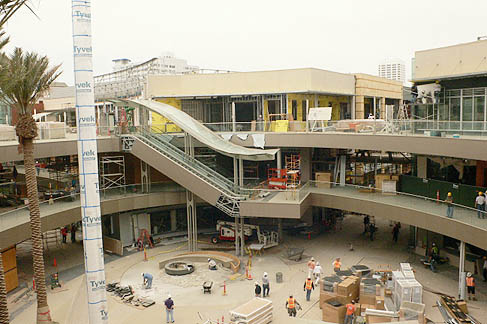 The walkways are finished, large glass walls that will cover some of the building are up and the tenant spaces are being completed. One can get a sense of what the mall will look like in its completed form. One feature that one can already appreciate is the view from the top deck. The west end overlooks the ocean, pier and other features of Santa Monica's coastline. Senior manager Doug Roscoe called it a "beach urban buzz."
On the east end, one can get view the city landscape. On a clear day one can see in the distance the Getty Museum, said Michael Guerin, assistant vice president of leasing. Facing the Third Street Promenade, there is an overview of the entire stretch of the famous outdoor mall. It gives a feel like Santa Monica Place is an extension of the neighboring three-block shopping and entertainment plaza.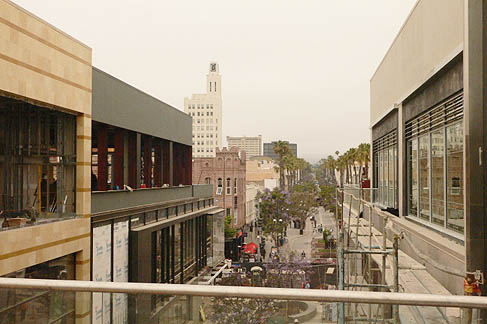 The mall's top level will include six "chef-driven" restaurants offering ranging food varieties, including Italian, Chinese and Latin-Asian. There will also be so-called fast-casual restaurants. And in one corner will be The Market, which Guerin described as "the Ferry Building [in San Francisco] or the Chelsea Market [in New York City] with a splash of a farmers market."
"The inspiration is to give local purveyors an opportunity to have a retail presentation in different categories, whether it be cheese, wine, olive oil … and to complement the [Downtown] Farmers Market and not duplicate it," Guerin said.
The top deck will also feature a program on Friday nights during August and September called SunSets. The free feature will include a DJ from KCRW who will "spin tunes and provide a Happy Hour soundtrack." The debut performer on Aug.6 will be "Morning Becomes Eclectic" host and Santa Monica resident Jason Bentley.
When the mall opens there will be a 10 a.m. "non-traditional ribbon cutting ceremony" that is "something very Santa Monica with a fun beach vibe," a mall official said. There will be other "preview events" that are still being worked out in the days leading up to the opening. Festivities will continue in the days that follow.
Anchor Bloomingdale's will be among the tenants ready for business on opening day. Nordstrom is slated for an Aug. 27 opening. The Market will be ready for business in the first quarter of next year.