Library Mural a Click Away
By Lookout Staff
August 5 – You don't need to take a trip to the Santa Monica Public Library to view a sprawling mural by Stanton Macdonald-Wright that was in storage for 40 years. Now the entire work spanning 2,000 square feet is just a click away.
The library's new website features the history of the mural, a sliding presentation of its 38 panels depicting 160 historical and mythological figures and photographs of the work and its artist, who lived in Santa Monica.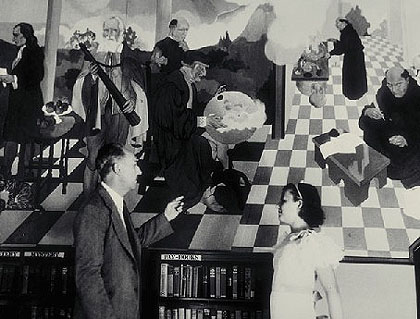 Stanton Macdonald-Wright at the unveiling of the murals in the reading room of the Santa Monica Library. Circa 1930s (Photos courtesy of City of Santa Monica)
The website also features a facsimile of the catalogue in which the artist described the mural's creation and narrative themes, information on its original and contemporary installations as well as the mural's conservation.
Visitors to the site can use an exploration tool that allows them to zoom in on details of the mural, which highlights what Macdonald-Wright considered to be the two most important facets of human development -- technology and creativity. Visitors are also invited to share their memories of the mural, past and present.
Long separated on opposite coasts, the mural, created by the artist between 1934 and 1935 for one of the original city libraries, depicts the course of human development, from primitive man to 1930s Hollywood.
The mural cycle was on view in the library's reading room for 30 years before it was transferred to the federal government and stored for four decades at the Smithsonian American Art Museum in Washington, D.C.
The mural came home in 2005, when the City was awarded a California Cultural and Historical Endowment grant to conserve and re-install the Library Mural in the new Main Library, then under construction.
Following its conservation in 2005, the Library Mural was re-installed in the new Main Library, which opened in January 2006.
"The mural adds color and character to the second floor of the Library," said City Librarian Greg Mullen. "It also provides a link to the history of Santa Monica and the Library.
"It's clear that the decision to bring the mural back to the new Library after so many years is of great significance to the community, and we appreciate the loan of the mural from the Smithsonian American Art Museum."
Along with fellow artist Morgan Russell, Macdonald-Wright created a style of art known as "Synchronism," which emphasizes the brilliant use of color as a means of expression.
Other local works by Macdonald-Wright include a terrazzo mural in the Santa Monica City Hall foyer, as well as "Entrance of the Gods into Valhalla," which serves as the fire curtain at Santa Monica High School's Barnum Hall.
For more information, visit the Stanton Macdonald-Wright Library Mural website at www.smpl.org/mural.