By Olin Ericksen
Staff Writer
January 29 -- Peering behind a metallic barrier with a flashlight, an unlikely trio of homeless census workers found their first encampment just past midnight.
"There's somebody back there sleeping," whispered 34-year-old screenwriter and volunteer Patrick Meighen, "but it could be more than one."
A mess of commandeered mattresses, blankets and matted hair shifted behind a barricade of shopping carts and cardboard. A few feet away in the lit alley behind Pico and Lincoln boulevards, a prostitute fielded questions from three Santa Monica police officers.
"I don't think she counts," said Javada Brooks, a homeless woman who was paid $10 an hour to work as a sensus counter Tuesday night. "She looks all dressed up, like she has money."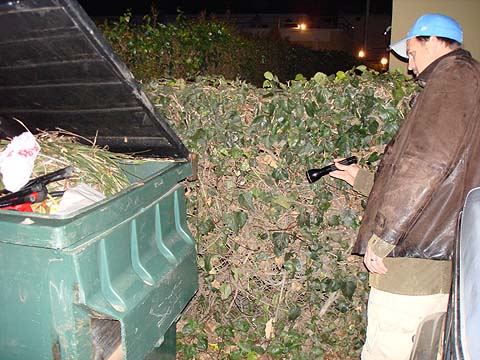 Patrick Meighen looks for the homeless. (Photos by Olin Ericksen)
Brooks and Meighen were two of the foot soldiers in an army of thousands of census workers and volunteers, including 1,500 in LA County, who fanned out across the nation's streets last week.
Their mission was seemingly simple and, likely, impossible: count every homeless person in every alley, park, hillside, freeway underpass, vehicle, RV and shelter in poor and multimillion dollar residential neighborhoods in cities across the nation, including Santa Monica
"I think that this is an incredible undertaking," said Rebecca Isaacs, director of the Los Angeles Homeless Services Authority (LAHSA), who coordinated Los Angeles County's census count, the largest effort in the nation.
Mandated by the U.S. Department of Housing and Urban Development (HUD) for the second time in three years, the census will help set policies, evaluate programs and earmark funds to tackle homelessness.
The 2005 census in LA County -- which helped LAHSA secure approximately $50 million in federal grants last year -- counted nearly 90,000 homeless during the three-night census. That gave the county the largest concentration of homeless in a nation where 750,000 people live on the streets.
But it's more than the money that counts, said Isaacs, who was hired last summer to turn the financially troubled agency around.
"I think the count is really important because in Los Angeles County, homelessness is at a crisis point," said Isaacs, who said she has experience running large operations and campaigns.
"We want to know how many people there are to help understand the problem, and therefore, bring about a better plan to help them," she said.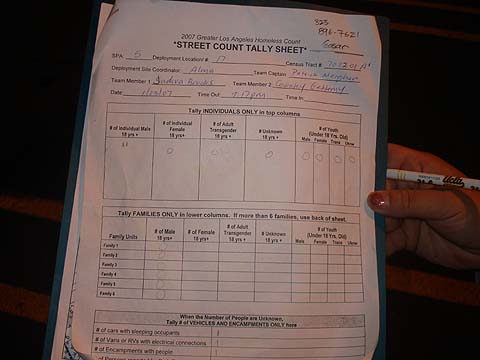 Tally sheet
From a "situation room" at LAHSA headquarters in Downtown Los Angeles, Isaacs managed nearly 30 sites that counted some 500 census tracts in and around Los Angeles County over three nights last week.
The census included 211 "hot spots," or areas where the homeless are known to gather, several of them in Santa Monica, she said.
Following the same method used in 2005, the count will also include information gathered during 20-minute interviews that will be conducted next month with nearly 3,500 homeless individuals.
The head count and interviews, as well as other data, will give the agency an idea of how many homeless were missed during the three-day census, Isaacs said.
The local count began Tuesday night, when 59 paid workers and 24 volunteers fanned out from the Unitarian Universalist Community Church of Santa Monica, 1260 18th Street, across the beachside city and the Westside.
The first night included 12 of Santa Monica's 19 census tracts, three more than in the 2005 census that counted 1,192 homeless in the city. (Based on the count, the County projected there were some 2,000 people living in the city, but a recent report by the Washington-based Urban Institute put the number at around 2,800.)
"People have different points of view, and that's why we have them go out as teams," said site coordinator Alma Mejorado, who organized the local count.
Volunteer inspects van.
East of Lincoln and south of Pico Boulevard in the Sunset Park Neighborhood, census tract 7022.01 was partially counted by Meighen, Brooks and Courtney Gettemy, who set out from the church at around 9 p.m.
Walking east to west and back between Cedar Street and Pico Boulevard, methodically combing streets and darkened alleys, the three got to know each other.
"I'd like to live in one of these houses someday," said Gettemy, who is 24 and living in a shelter. Now clean, the mother of three from Washington state used to get high on methamphetamines before getting help two years ago.
"What I really want is my son back," said Gettemy, who is fighting for custody of her two-year old boy. Like Brooks, Gettemy appears well kept and feels empathy for the more hardened homeless in Santa Monica.
Brooks, who resides at a shelter for women after a divorce from her husband of ten years, said, "I've never had to live like that."
From sharing life histories to little quirks, the three kept up the conversation until they came upon their first homeless vehicle at around 10 p.m.
"It's got a bike outside, so I think this is one," said Meighen, who writes full-time for the cult animated TV show, "The Family Guy."
The three census takers took a moment and then marked the blue van officially as a car, which counts as one person, according to LAHSA workers. Vans and RVs with "water and utility hook-ups" fall under a separate category, according to the tally sheet.
It would be the first of many judgment calls that night.
Around 11:15, a woman was leaving an RV parked in a parking lot on Pico Boulevard and Euclid Avenue to join a man wandering Euclid whom the group had just marked homeless.
"I think we should mark the RV, and not the woman," said Meighen, who said he based his decision on instructions given to enumerators.
While still counted as a "person," the vehicle will not result in useful information, such as the gender of the person counted or whether that person was 18 or older, categories that appear on the tally sheet.
By the end of the night, the group had only counted two male adults, one car with a homeless person, one van or RV and one encampment.
While other teams fanned out across different parts of the same tract -- including teams that used their cars -- the preliminary count indicated that the number of homeless counted remained steady since 2005 at about a dozen and a half.
Still, the count is in the eye of the beholder, LAHSA officials acknowledge.
"We have to take our best guess," said Mejorado. "If she was outside the RV, I could have counted it either way," she said, referring to the decision made by the group during the count.
Said Isaacs, "I think that, like any other large undertaking, you try to be as uniform as you can to provide as much consistency as you can."
Although it took nearly a year to release the results of the first census, this year's count can be expected in July, allowing cities, such as Santa Monica, to get an idea of the breath of their homeless problem, Isaacs said.
"It helps to know how many and where the homeless are," she said. "The numbers, better or worse, will give us a benchmark for the first time in history."